The world of shinobi is about to undergo amazing changes when the Boruto series returns this August.
The popular manga series Boruto: Naruto Next Generation made fans worry when it took a three-month break after chapter 80. The series will continue to premiere on August 20, 2023, in the 10th issue of the magazine. this year's V Jump magazine. Chapter 81 of Boruto manga is full of interesting details with unexpected changes so it is highly anticipated
In particular, the Boruto manga will have a timeskip (time jump), the characters will have big changes. Following Naruto and Naruto Shippuden, the sequel to Boruto: Naruto's Next Generation will have a new name, Boruto: Twin Blue Vortex.
Wishing to destroy all the Otsutsuki clans, Kawaki imprisoned Naruto and Hinata to another dimension where time stood still. Ada uses Senrigan to make people believe that Boruto is the one who harmed Naruto, Kawaki is the biological son of the Seventh Hokage.
Chapter 80 closes when Boruto's world is turned upside down because of Naruto's disappearance, Naruto's real son is hunted down by the whole world of shinobi. Faced with that situation, Boruto left the village with the determination to return soon to take back what was his.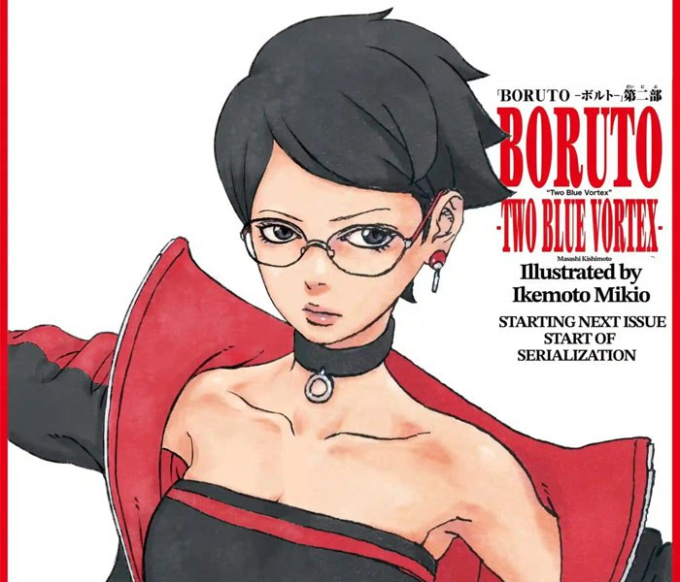 The V Jump magazine cover also reveals Boruto and Sarada's new design after the time jump. That's exactly what the series needed to attract fans before officially returning.
Fans love the new design of the young girl Uchiha Sarada. Sarada's new appearance involves both Sasuke's father's Uchiha clan and Sakura's mother's Haruno clan. She is noted to look a lot like her deceased uncle Itachi. The fact that Sasuke's daughter's new costume is significantly improved, represents the artist's acknowledgment of past mistakes in Sarada's design.
The time jump in "Boruto: Naruto's Next Generation" marked an important milestone in the series. With new designs, a new name, and a fresh perspective on the Naruto universe, fans have every reason to get excited and look forward to the return of the Boruto manga.