After The Glory (Glory in Hatred), Netflix Korea continues to release a thriller film with a female character as the center of the story Mask Girl (Mask Girl). Compare to The Glory, Mask Girl Even heavier, the topic and way of exploiting and developing the story are also very unique and interesting. Currently, the film is receiving a lot of attention from viewers, ranking at the top of Netflix in many countries, including Vietnam.
Heavy script, interesting character building and a series of messages
Mask Girl adapted from a webtoon that ranks among the classics of Korea, revolving around the life of an unusual girl. Mo Mi (Lee Han Byeol) loves to dance, sing, be the focus of the crowd and moreover love to be loved. However, because of her bad appearance, growing up in the criticism from her mother, friends, colleagues, even strangers, has made Mo Mi self-confident. She decided to return to living a normal life, working as an ordinary office worker. But growing up with psychological instability has made Mo Mi unable to be normal anymore, she likes married superiors, wants to be famous, so she dresses revealingly, wearing a mask on livestream, listen to the cheers on the virtual network.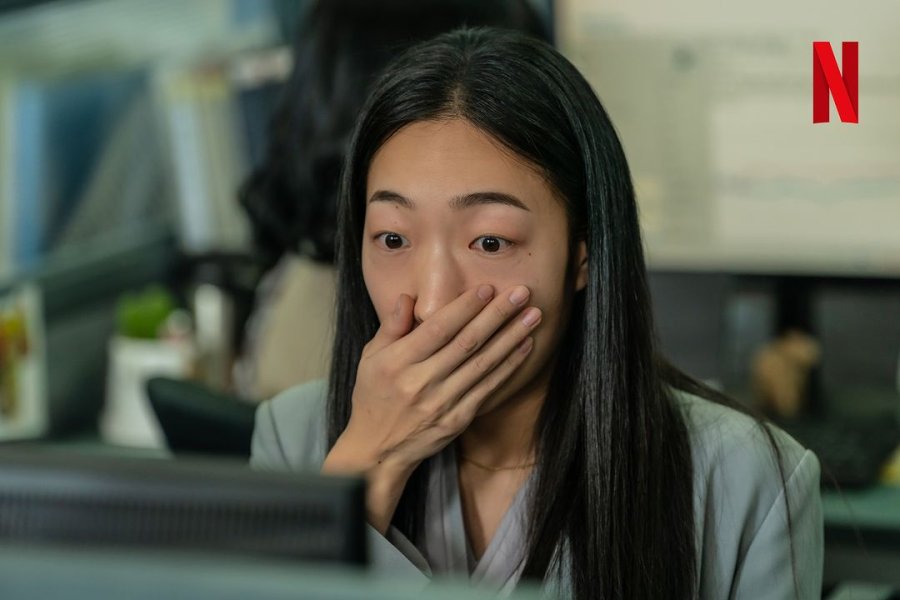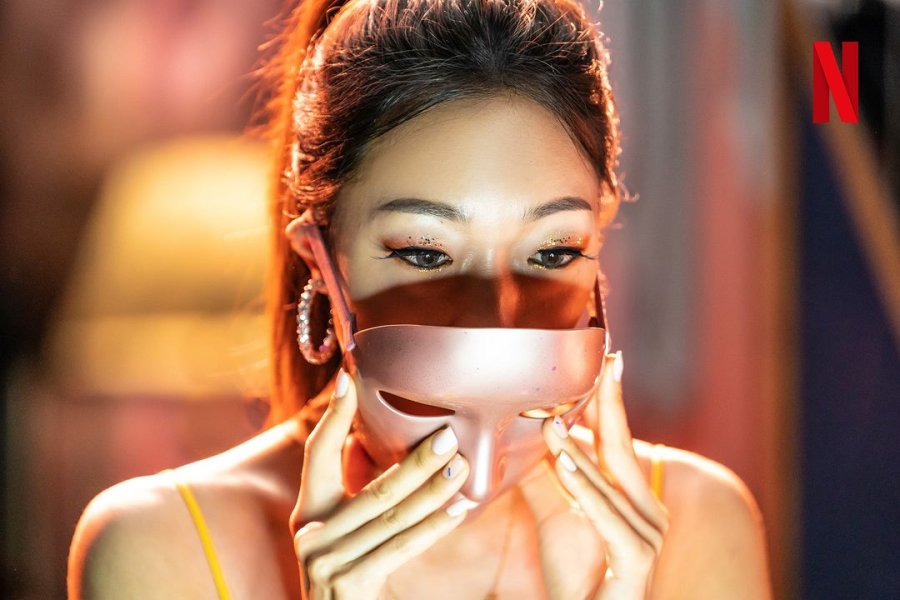 Events happened, lives died, and Mo Mi decided to have plastic surgery, lived in hiding with a new identity, gained beauty and acclaim, but when she was sick, she did not dare to go to the hospital. , afraid that the identity will be revealed. The series of tragedies continues to extend, but the starting point still comes from the problem of appearance. After repeatedly leaving her hands stained with blood, Mo Mi realized that she was pregnant again, most likely a not-so-beautiful child. But Mo Mi promises, no matter what happens, she will raise him, telling him that he is very beautiful, because since childhood, she has never heard this from her mother. But that's just a dream forever unfinished in Mo Mi's life.
Throughout the journey of Mask Girl, not only Mo Mi with a real mask, but many other characters also equip themselves with an invisible mask because of too many prejudices in society. Mo Mi is a prisoner but also a victim, when she grew up in so much contempt, even her mother was never gentle with her. The film shows how the consequences of psychological trauma will make people become deviant and distorted. Mo Mi's best friend – Kim Chun Ae – is the same.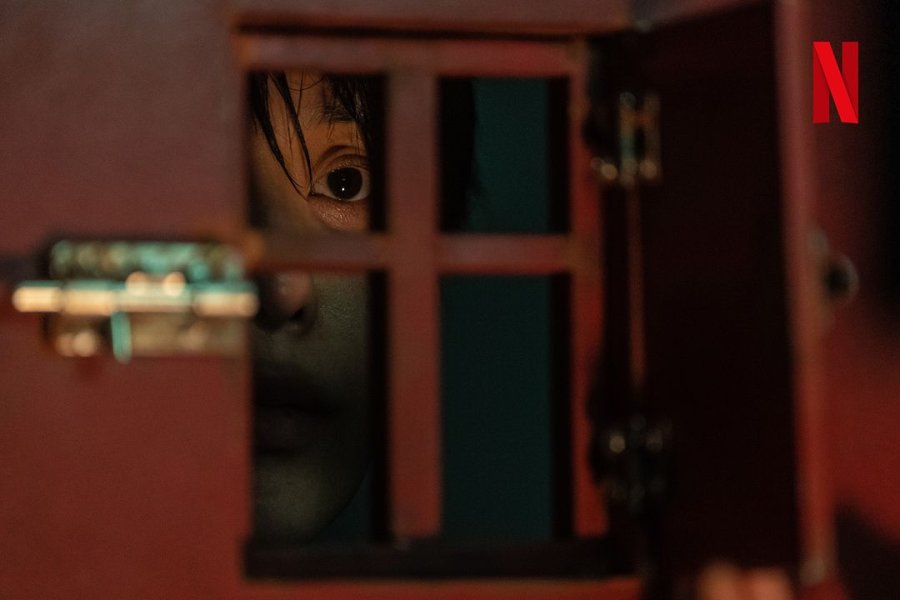 She is not beautiful, so she always closes herself to the world, unable to find a voice with anyone. Therefore, just a gentle attention from a handsome guy can make Chun Ae flutter. The psychological trauma has formed a vulnerable Chun Ae, easily deceived and taken advantage of. Therefore, many years later, when she became beautiful and met the person who once considered her as a "bank", Chun Ae still could not stop her love, she was taking him home to care and love like never before. What happens, this opens the biggest tragedy of her life.
Joo Oh Nam – is a boy – but it is inevitable that he will be despised for his appearance. Even because he was a boy, both ugly and short, he was even more frighteningly beaten and isolated. The only way for Oh Nam to live is to make himself invisible to everyone's eyes, so that no one cares, no one has eyes for him. Compared to Chun Ae or Mo Mi, Oh Nam is really distorted in terms of personality and worldview. His hellish life was punctuated with more gloomy colors, when his mother, Mrs. Kim Kyung Ja, instead of accompanying and understanding her son, instead crammed her head with many people around her. ideology. That Oh Nam is a perfect, handsome, well-educated guy who dropped out of medical school just because he was afraid of blood, surrounded by a lot of women,… Oh Nam doesn't need those accolades, he longs to have who pulled him out of his own world, but no one.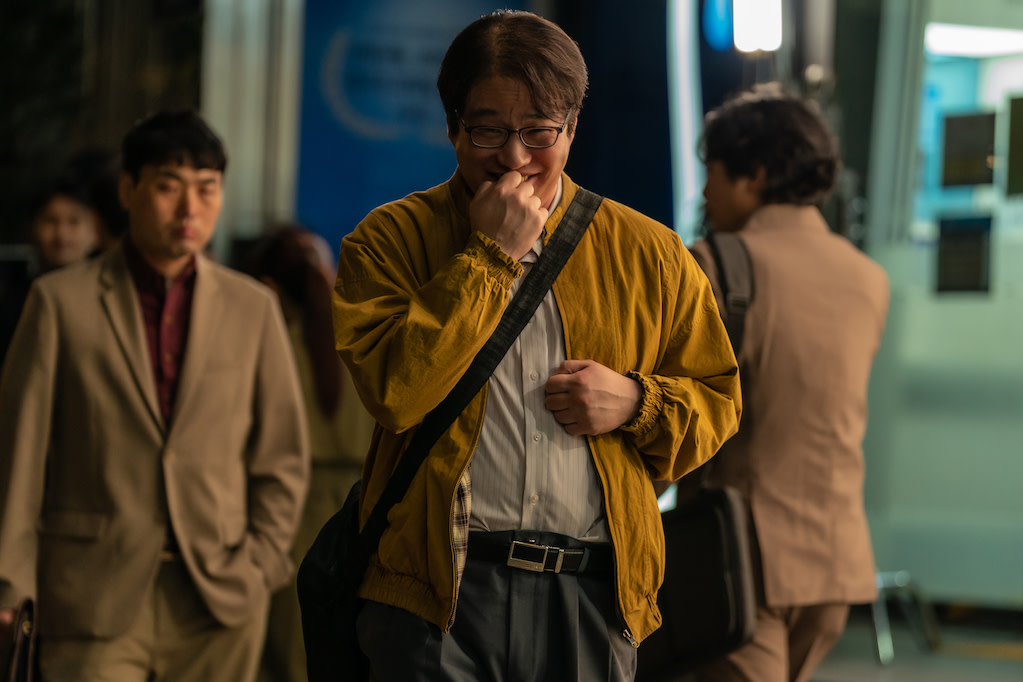 Each character in Mask Girl Each has its own episode, its own stories, its own twists and turns, and none of them are entirely good or bad. Their lives, all wrapped up in the word tragedy, they struggled in that tragedy, longing, fatigue and suffocation. Discrimination in appearance, educational background from family, school violence, expectations from society, "sick" love, the fear of social networks, … too many problems in society are recognized. encapsulated in 7 episodes. Of course that is only part of the cause leading to tragedy, and the choice still depends on each character, unfortunately, too many characters in the world. Mask Girl choose to let themselves "embed indigo".
A big round of applause for the webtoon author and scriptwriter Mask Girl when successfully building very interesting characters, inserting too many stories about real life into the film's content, thereby giving the audience memorable experiences. The ending of the film is not unexpected, even causing a sense of shock compared to the overall twist that stretches throughout the work, but it is a satisfactory ending for all those who are both criminals and criminals. victims in their lives. After a journey of gnawing on his own ruined life, that is probably the most satisfactory ending.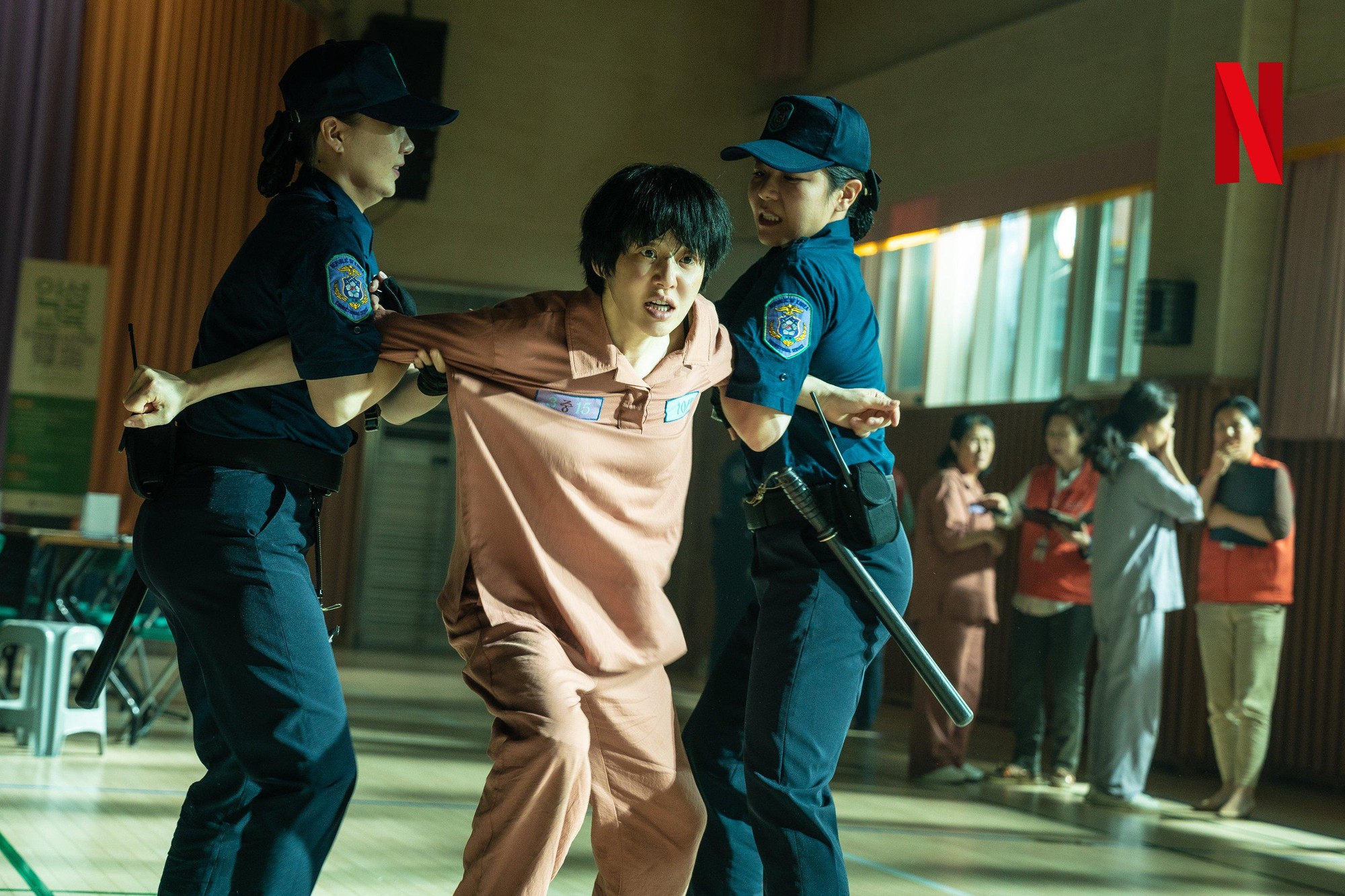 Novel but counterproductive storytelling
As noted above, Mask Girl is about a girl wearing a real mask but the other characters also have their own masks. And each episode will stand on the point of view of that character. From Mo Mi to Chun Ae, Joo Oh Nam or even Mi Mo (Mo Mi's daughter), all have their own episodes and the audience gets to see the story through the eyes of those characters. This new narrative style gives the audience more experience after 7 episodes, since then, the messages surrounding the characters are also depicted more clearly.
Undeniably unique and interesting of this storytelling style, it is a plus but also a minus point of the film. It is the storytelling through the perspectives of many characters that leads to the slow pacing of the film at times, even creating a sense of length, even though the film is only encapsulated in 7 episodes. As in episodes 3 – 4, viewers lose patience when they have to wait too long to observe the drama from the perspective of a supporting character and it takes too long to see the appearance of the female lead Mo Mi (Nana takes charge of the drama). receive). In addition, changing the three roles for the three phases of the character is necessary but also somewhat affects the seamless experience of the audience.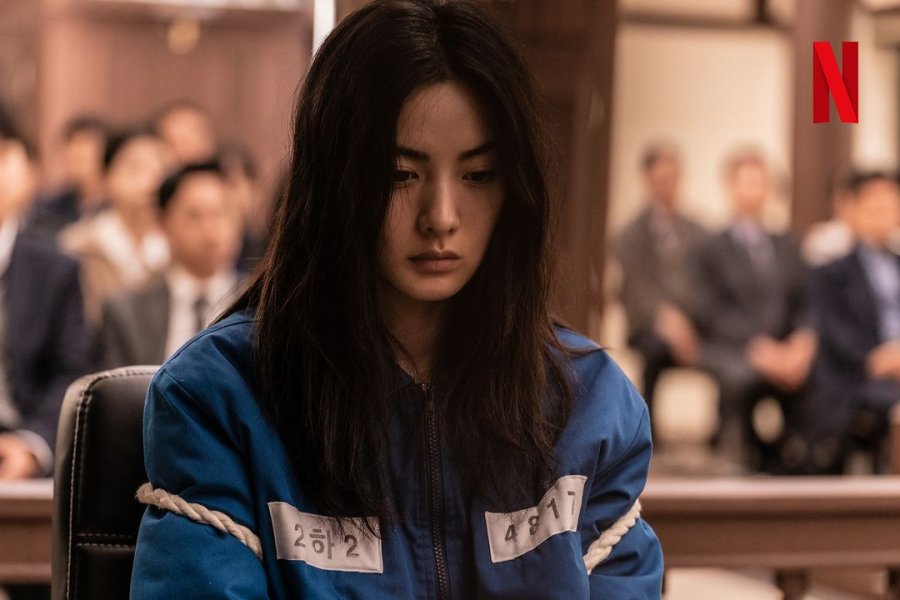 Acting, visuals, music are not a minus point
That feeling Mask Girl bring to the audience can be encapsulated in the phrase "satisfied". Images, layout arrangement, movie setting, character creation or even the entire episode using black and white tones, all give the viewer the feeling that this is an extended cinematic work. rather than a TV show. After Kill Boksoon, Korean Netflix continues to give the audience a movie with an artistic look, although the content is about killing, revenge, and deception. Even the heavy movie scenes, when the characters dip their hands in blood, are highly appreciated in terms of visuals. Even for many viewers, the film's visuals are also reminiscent of the works of veteran filmmakers, such as Park Chan Wook, Lee Chang Dong or Bong Joon Ho.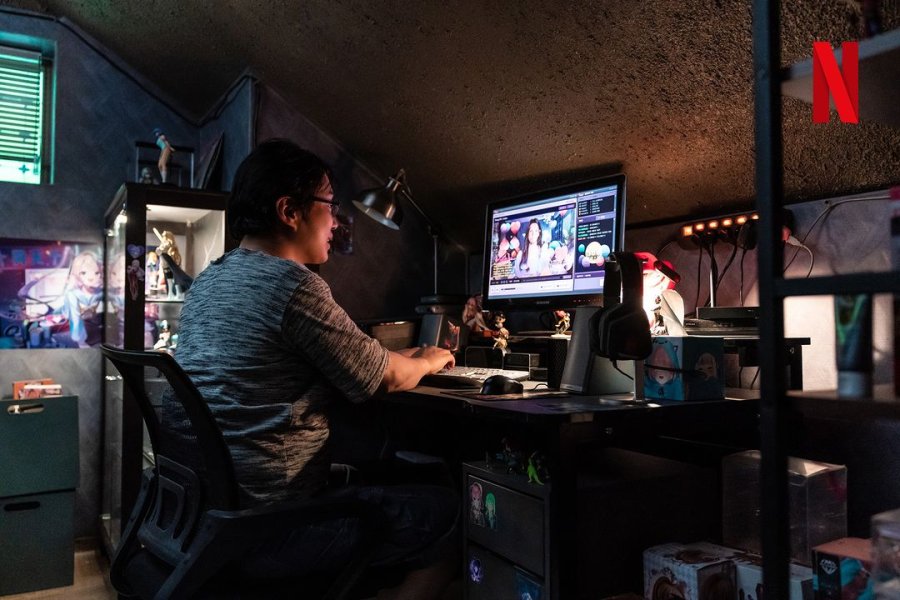 Combined with the visuals, the sound "awakens the senses" of the viewers is the acting without any criticism of the cast. All three actors playing the role of Mo Mi, Lee Han Byeol – Nana – Go Hyun Jung, have excellently performed their characters. In particular, Lee Han Byeol is a very interesting new color array, a new "discovery" of director Kim Yong Hoon that should have been noticed with her ability a long time ago. Yeom Hye Ran after success from The Glory then continues to become a familiar face of Netflix. This time it is again a role full of madness, a woman who can do anything for her children. Other actors like Ahn Jae Hong, Choi Daniel, Moon Sook or even the little girl Shin Ye Seo overwhelmed viewers with their performances.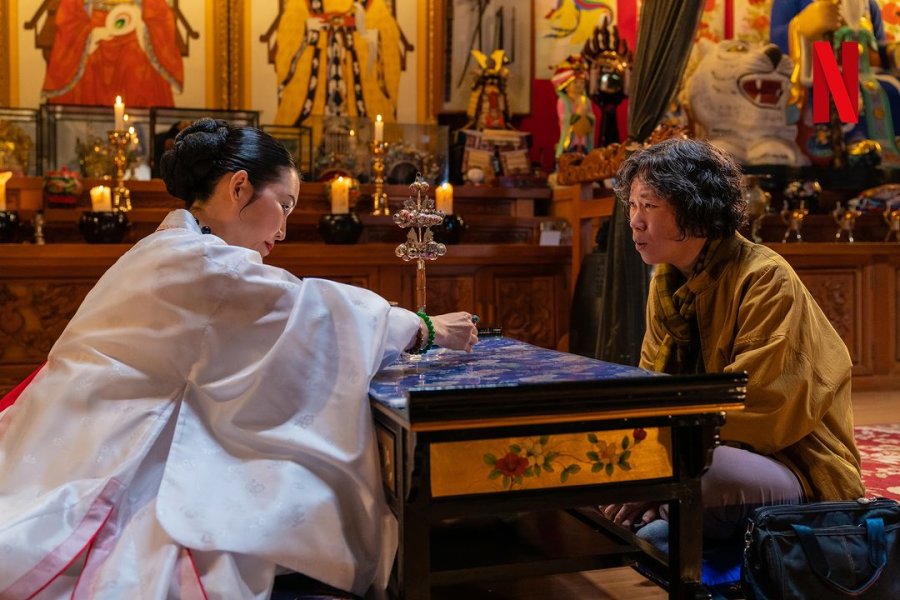 Scoring: 4/5
What makes the difference of Mask Girl? That's probably crazy uniqueness. This is not a mere entertainment film, it is not even for the masses. It's like a mixture of dark, gritty and lots of twists, which blows the viewer's mind until the very end. A work worth seeing!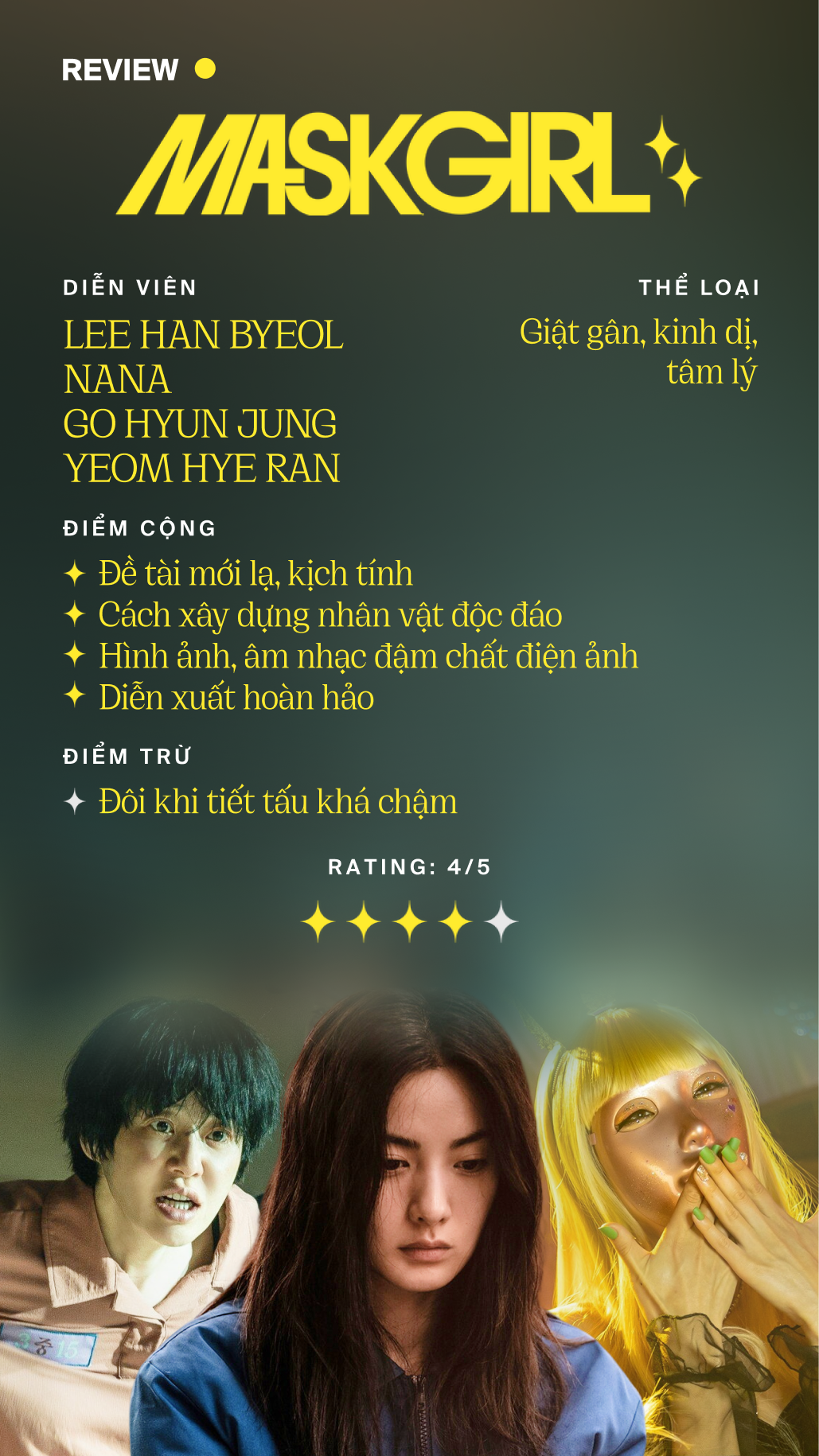 Image source: Netflix