Eiichiro Oda has always had a special relationship with his fans, something he built over two decades as the author of One Piece . Whether through Q&A sessions or interviews, Oda has a clear passion for connecting with his readers. Recently, he's been even more appreciated for giving Usopp an epic transformation with Gear 5.
Usopp, who is already an "extraordinary" character, is raised to a new level with Gear 5 status. In the new edition of SBS One Piece Oda introduced this upgraded version of Usopp, making fans extremely excited.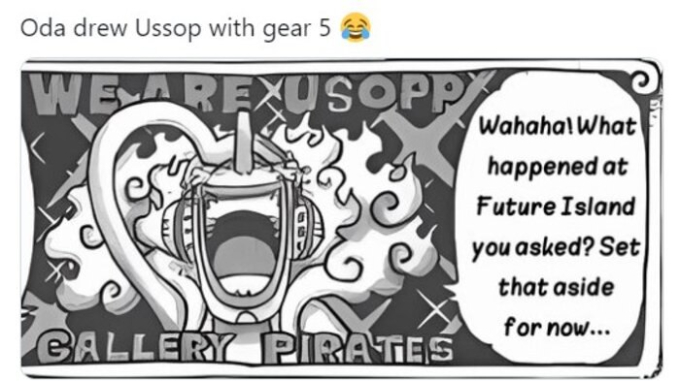 The image above is a revolutionary transformation in image and concept for the character. Usopp in his Gear 5 state has similar characteristics seen on Luffy. His black hair gave way to flowing white curls, and his long nose became even more prominent. The image shows Usopp in great joy, which is associated with the Sun god Nika.
The introduction of Gear 5 in One Piece created a buzz many months ago, when it appeared in the manga and recently in the anime. After more than 1000 chapters, since chapter 1044, fans were blown away after witnessing Luffy's devil fruit awakening and learning about the truth of the rubber devil fruit.
Now, it's Saint Usopp's turn to taste that power and the fan community One Piece Very excited about this too. Because in the series One Piece , when mentioning Usopp, many people will remember a member whose outstanding characteristic is that he loves to brag. He often brags about "fictional" stories for fun, and this brings teasing joy to readers.
Who knows, maybe in the future, we'll actually get a chance to see Usopp brag about something similar to Gear 5. Even many fanart images of Usopp in Gear 5 state have been spread on social networks and received the love of many netizens.