A classic
In 1982, director Duong Khiet decided to adapt Journey to the West, one of the "Four Great Famous Novels" (four famous novels), into a television series, so she began holding auditions across the country. After many rigorous casting rounds, she finally formed a team including Luc Tieu Linh Dong Chuong Kim Lai, Tu Thieu Hoa… To bring better visual effects, each person in the team received corresponding training. response, especially Luc Tieu Linh Dong to play the role of Sun Wukong.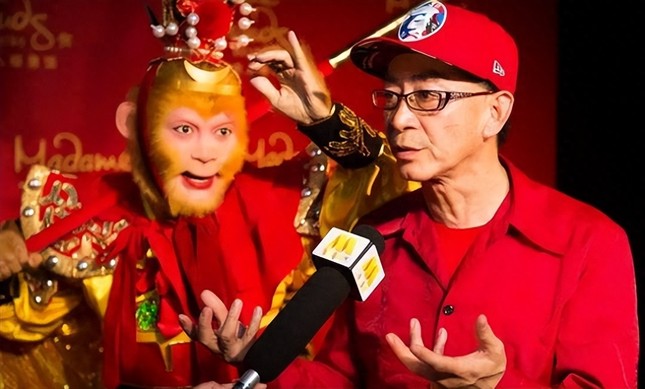 Luc Tieu Linh Dong Chuong Kim Lai and the role of Sun Wukong.
To better understand the behavior of monkeys, he lived with monkeys for several months. When the movie started filming, director Duong Khiet could not hold back his praise, saying that this is truly a very lively monkey. ! During filming, due to simple equipment and field scenes, the actors encountered many difficulties, often falling due to broken ropes, having to change actors to play the role of Tang Tang three times in the middle. Post-production is still very immature; Some special effects of the transformation of the fairies and ghosts are not perfect.
However, this does not prevent this film from becoming a classic. In 1986, after 4 years of filming, the movie was finally brought to the small screen. Luc Tieu Linh Dong's excellent acting skills completely conquered the audience, making this movie famous, as The most popular TV series of the year in China and many other countries. Even because the movie is so classic, Chuong Kim Lai said that every time he went through airport security, the staff always thought his name was Luc Tieu Linh Dong; Reluctantly, the police had to break the rules and give him a second citizen identification card with the name Luc Tieu Linh Dong.
Spent 700 million yuan and no one cares about it
From that year onwards, every summer vacation, CCTV always rebroadcasts the movie Journey to the West. 2016 is the year of the Monkey. Right from the end of 2015, some netizens asked the director of this year's New Year's Eve Gala to invite Mr. Chuong as a guest. Netizens talked a lot and seemed sure. that CCTV will definitely invite Mr. Chuong; However, waiting for the day the program was broadcast, Mr. Chuong did not appear as expected, making the audience extremely dissatisfied and rushed to question CCTV with suspicions of shady things!
When asked why people with a lot of traffic can go on stage, but classic film artists cannot, CCTV said they have their own considerations but this answer clearly did not satisfy the audience. For a while, netizens felt sorry for Mr. Chuong, and a trend of boycotting CCTV appeared. Perhaps it was this wave that made Chuong Kim Lai realize that no one could replace his role as Sun Wukong, so in 2018, he announced the start of filming the plastic film "Where is the Road?"
Mr. Chuong Kim Lai announced that this film will be played by him and Ma Duc Hoa, who plays Zhu Bajie together; To be effective, he spent up to 700 million Yuan – a record number. I thought that statement would arouse emotions in the audience, but the final response was really disappointing. Actually, it's not that people are no longer interested in "Journey to the West", but in the past few years, Luc Tieu Linh Dong has exhausted everyone's love for him.
It turns out that Luc Tieu Linh Dong Chuong Kim Lai then tried his best to propagate his "My Monkey King" on the Internet and founded "Luc Hoc", which is a major that specializes in studying oneself, just like "Hong Hong". Hoc" specializes in researching the work Dream of the Red Chamber. Such arrogant behavior made netizens unhappy, but he did not stop and promoted himself even more. Chuong Kim Lai also said that having invited a Hollywood team to cooperate in producing the film, the special effects will definitely be much better than the 1986 version of "Journey to the West", even comparable to "War Wolf".
This made the audience boycott the film even more, for no other reason than Duong Khiet's "Journey to the West" became a classic, first of all because although the filming conditions at that time were too poor, in the end it was effective. It's very complete and feels realistic. Second, the most important point is that "Journey to the West" itself is a classic, director Duong Khiet has conducted in-depth research and was able to capture its essence, Luc Tieu Linh himself Dong was also taught and instructed by director Duong Khiet.
On this basis, he wants to bring more American teams to work together to make films. How can a foreign team have such profound insights into China's masterpieces? Therefore, "Where is the road" falls into difficult times. In December 2021, the film producers suddenly announced that they would change the film's name to "The Real and Fake Monkey King", but netizens still boycotted, saying that the already respected Luc Tieu Linh Dong now makes people angry. I'm very ashamed. Up to now, after 5 years, "Where is the Road" despite being renamed "The Real and Fake Monkey King" is advertised as a "fantasy action movie" and is "about to premiere" every year, but still has no appointment. theater release date.