The idea that a supporting character in Naruto has inspired such a prominent character as Gojo may be hard to believe for some, but it's true.
Like many creators in the entertainment industry, comic book writers often pay homage to their favorite series or work they grew up with, by incorporating a number of elements. into their own works.
The Naruto manga and anime series have inspired many people around the world, and appeared in other franchises. A recent example is Michael B. Jordan's Creed III film, which had some scenes inspired by the Naruto series.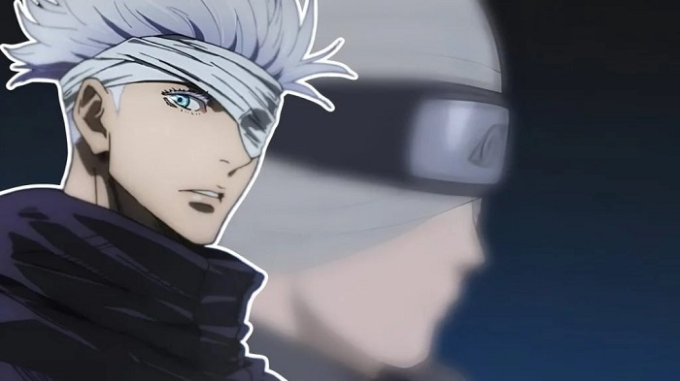 The current hit work Jujutsu Kaisen also has details inspired by Naruto. Author Akutami Gege seems to be a fan of the Naruto manga. This influence can be seen in one of the most famous characters Jujutsu Kaisen, who seems to be inspired by a character from Naruto.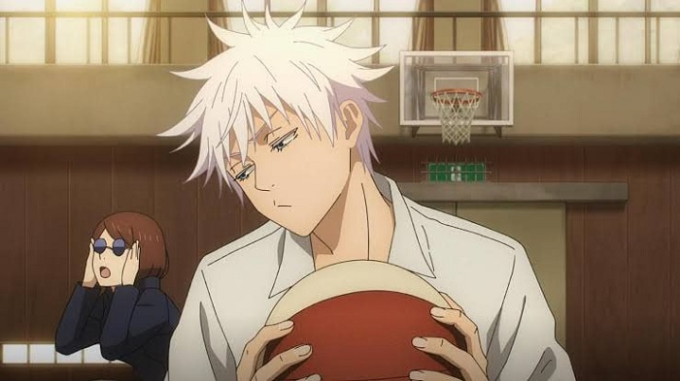 When you see Gojo Satoru's character design in Jujutsu Kaisen, do you think of Kakashi Hatake from Naruto? Both characters have a lot in common: both are teachers, wear masks that cover their eyes, and have two personalities. However, if you think Kakashi is the inspiration behind Gojo then you are wrong.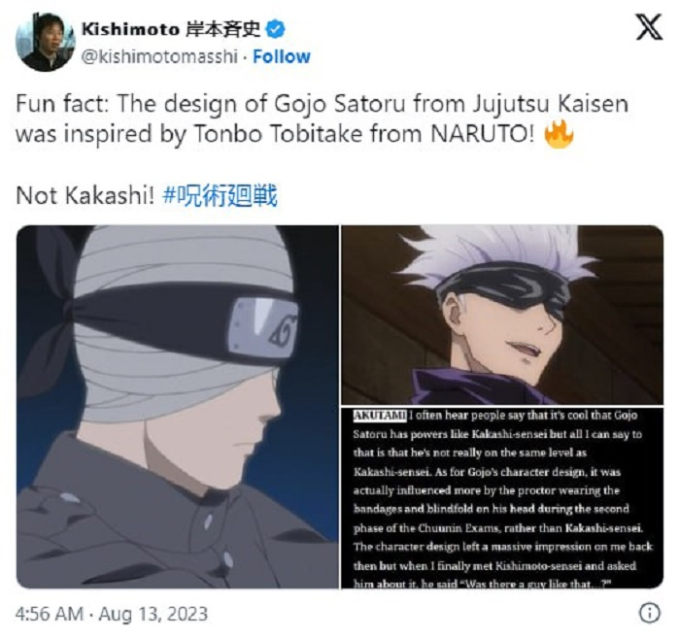 Interestingly, Gojo Satoru was not inspired by Kakashi but from a supporting character that most Naruto fans might not remember.
Jujutsu Kaisen author Akutami Gege participated in an interview with Naruto creator Kishimoto. The interview was published in "Jujutsu Kaisen Official Fanbook", Akutami answered some burning questions from fans.
Akutami Gege has refuted the fan theory that Kakashi was the inspiration behind Gojo. He revealed that the real inspiration for Gojo was a blindfolded warden with a bandage named Tobitake Tonbo.
This character appeared in the second stage of the Chunin exam in Naruto, even Akutami didn't remember his name at first. However, Jujutsu creator Kaisen insists the supporting character had an impact on his creation of Gojo.
If you don't remember who Tobitake Tonbo is, it's completely normal. Because when Akutami met Kishimoto, he asked about Tonbo's design, even Kishimoto did not remember the existence of this character.
So who is Tobita Tonbo?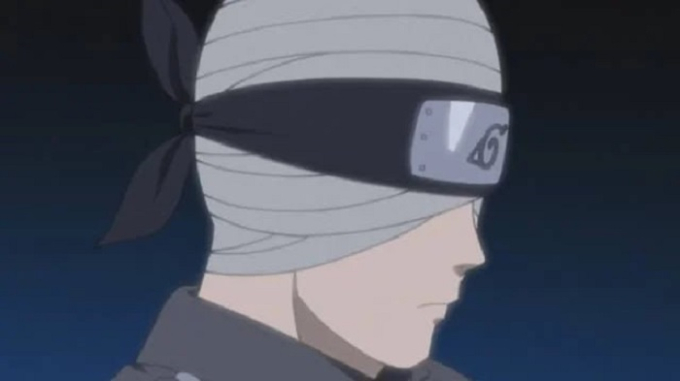 Tobitake Tonbo is a Chunin and a member of the Analysis team of Konoha's Intelligence Division. He covers his eyes with bandages like Gojo in Jujutsu Kaisen 0. And like Gojo Satoru, he is also quite confident in his abilities and strength. Both of these characters also never miss an opportunity to appreciate a strong person.
Even author Gege Akutami paid homage to Tobitake Tonbo through Gojo's character design.
In episode 3 of Jujutsu Kaisen Season 2, when Toji discusses flashbacks with Kid Gojo. In this scene, Gojo is wearing a yukata decorated with a dragonfly pattern. The name "Tonbo" from Tobitake Tonbo is written as トンボ in Japanese, which means "dragonfly" in English.