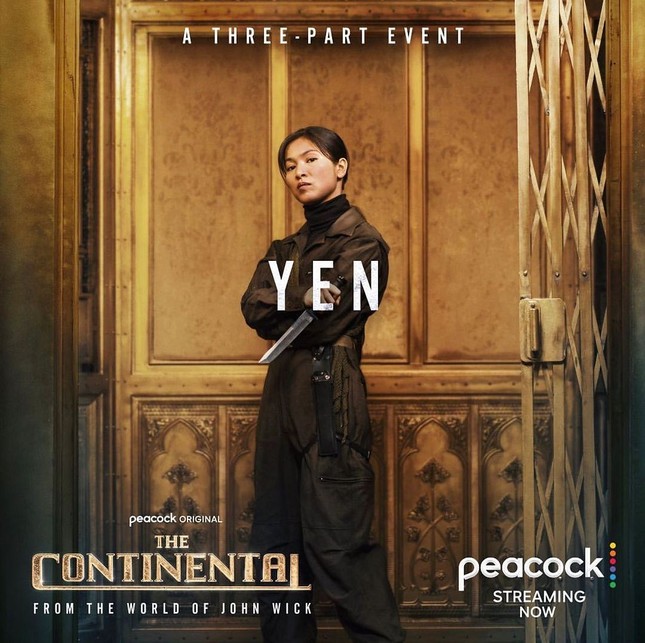 Nhung Kate shares her appearance in The Continental: From the World of John Wick (Photo: IG)
On September 29, Nhung Kate posted on her personal Instagram a post showing her appearance in The Continental: From the World of John Wick.
In the photo, she is wearing a dark, discreet outfit, holding a knife across her chest, cold eyes looking forward. In the center of the photo is the word "Yen" – the name of the character she plays in the Hollywood action series.
The Continental: From the World of John Wick is a prequel to John Wick, the action blockbuster associated with the name of actor Keanu Reeves. The film is set in the 1970s, telling the story of the youth of Winston Scott (Colin Woodell) – owner of The Continental Hotel New York branch – a safe haven for assassins, including John Wick.
Nhung Kate plays Yen Scott, the assassin and wife of Frankie (Ben Robson) – Winston Scott's brother.
More surprisingly, in addition to the Hai Phong beauty, the film also has the participation of another Vietnamese actor. That's her boyfriend, Johnny Tri Nguyen.
While Nhung Kate is in the main cast and amateurs Dragon trap only appeared briefly as a cameo. He takes on the role of Khang, Yen Scott's teacher.
The audience did not know about Johnny Tri Nguyen's comeback until episode 2 of The Continental airs on September 29. The character teacher Khang speaks Vietnamese, attaches a bomb to Yen and encourages her to carry out the final mission "for the cause".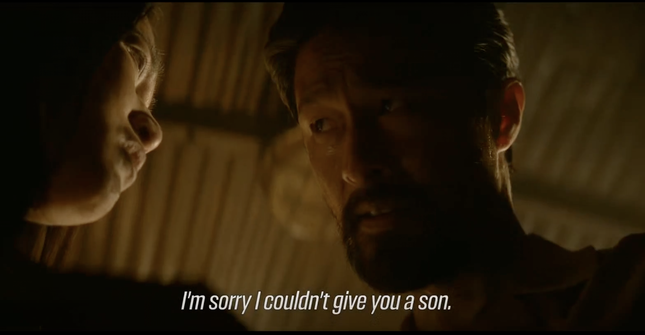 Johnny Tri Nguyen appeared at the beginning of episode 2, talking to Nhung Kate in Vietnamese
The 3-episode film marks Johnny Tri Nguyen's return to the screen since Da 5 Bloods starring with Ngo Thanh Van in 2020. The role in the new movie is also not an official comeback. He joined the film crew mainly in the role of supporting his girlfriend during the filming process in Budapest, Hungary, from the end of 2021. Nhung Kate was helped by her boyfriend to learn more English, practice martial arts and adapt to the environment. work internationally.
Her best efforts and her boyfriend's companionship brought "sweet fruit" for Nhung Kate. After episode 1 aired on September 22, regardless The Continental Criticized for its cumbersome and unsophisticated content, the 8X actress received many compliments from foreign media and was considered one of the few bright spots of the film.
The Wrap Appreciate the interaction between Yen and her husband. Even though they both spoke in Vietnamese, they still aroused sympathy from the audience. Meanwhile, CNN thinks that the Vietnamese female assassin is the best character among the interesting names in the movie. Los Angeles Times convinced by Yen's emotional depth.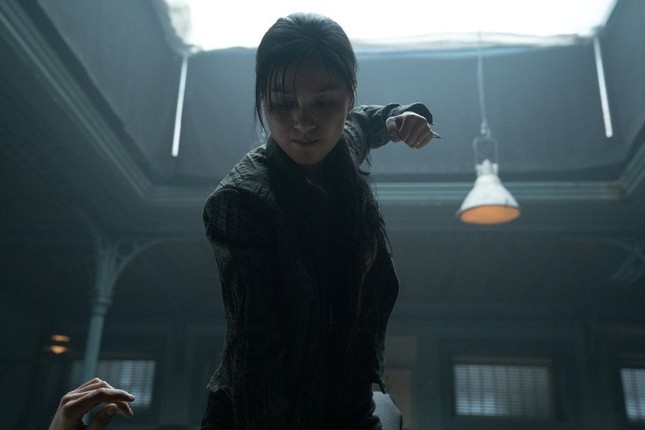 CNN was impressed with the way assassin character Yen Scott uses his fists to escape in dangerous situations (Photo: Peacock)
According to IG, Variety