Since its launch, MU Continental Loren has always been one of the famous games that "pampers" gamers the most by always listening to the hearts and opinions of players during the development process. longer than one year. Not only does he care about every small problem in the player's game, MU Continental Loren's distributor also always keeps up with market trends, creating series of interesting events and activities with many attractive rewards to enjoy. Thank you gamers. And of course, this year's Mid-Autumn Festival is no exception.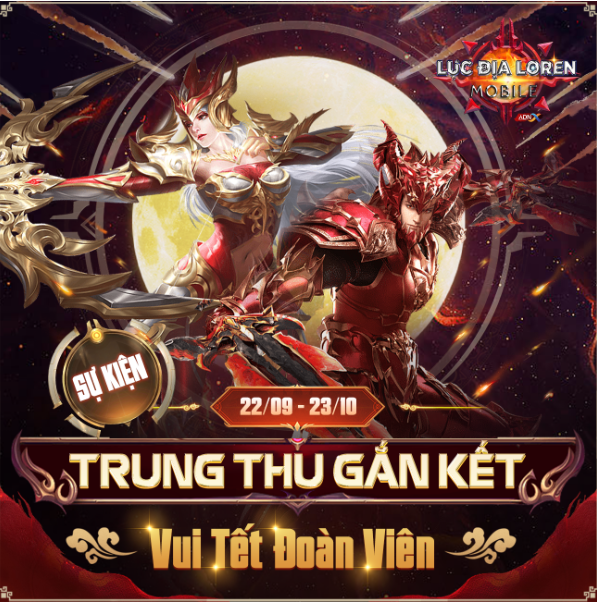 Accordingly, when Mid-Autumn Festival is approaching, the streets are filled with a festive atmosphere with star lanterns and masks for sale, but in the Loren Continent, everything is also becoming more exciting than ever. time is over. A significant contribution must be mentioned to the series of Mid-Autumn Festival Reunion events – an extremely meaningful action dedicated to the players of MU Continent Loren on this special occasion.
For many people, Mid-Autumn Festival may only last a day, or even an evening. But for players of MU Continent Loren, it will be a month of living in a festive atmosphere. Starting quite early, the Mid-Autumn Festival Reunion event will take place during September 22 and only ends at 11:59 p.m. on October 22. During the event, players can use diamonds to buy Mid-Autumn Festival Lanterns at Shop KC for 125 diamonds. When used to reach certain milestones, gamers will randomly receive extremely valuable items, most notably Wing material pieces with different levels.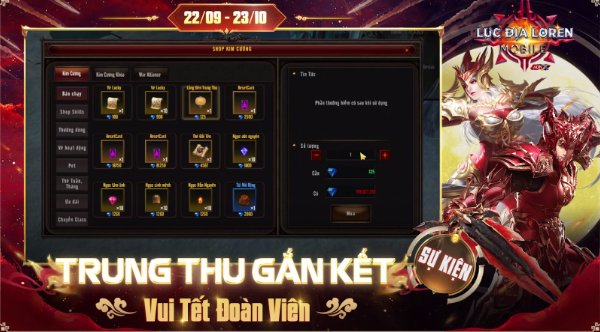 Of course, Mid-Autumn Festival cannot lack the flavor of traditional cakes and there is no need to go far, right on the Loren Continent, gamers can still enjoy these familiar dishes easily. By simply attending the Mid-Autumn Festival Reunion event, players can receive random types of Cakes, Cakes and Mixed Cakes – things that will help the character increase by 10-20-30 respectively. level. If you want to be even more "speedy", this event also brings extremely valuable rewards. That is the Level Up Scroll – something that will make gamers' characters immediately reach level 300. However, this item can only be used a maximum of 10 times a day.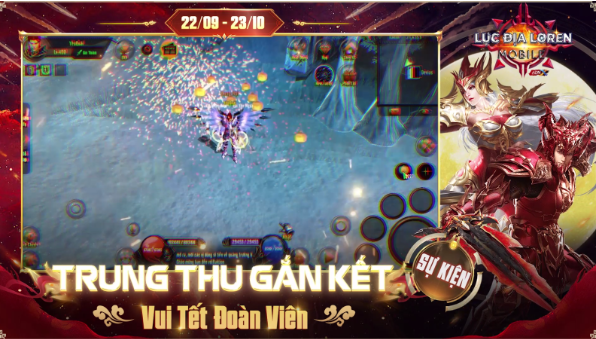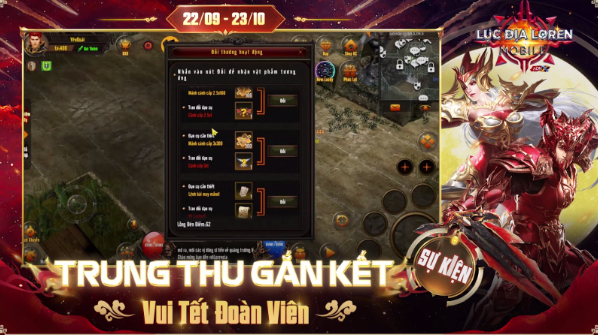 So we can see how much "pampering" the publisher of MU Continent Loren is towards gamers. This is not the first time gamers have enjoyed such great incentives, but perhaps that is also the message that the game's publisher wants to convey when pleasing players is always a priority. put on top. So, if you don't have a lover and still can't find a suitable place or friends to go to Mid-Autumn Festival, Continent of Loren is the ideal land that always welcomes all gamers.