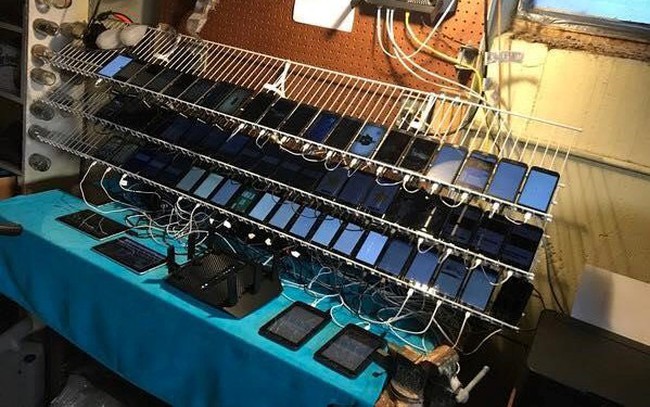 The explosion of e-commerce makes the number of views and clicks, likes… become one of the important metrics to evaluate products and services. Many people believe that, for any product with many views (views), many people like it, the product is of good quality. But are these values ​​real? There are values ​​that have been built through a model called the "phone farm".
Phone Farm, or Phone Farm, is no stranger to the community that specializes in buying and selling interactions on social networks. It was a system of a bunch of old phones. Just install a single application, all phones will receive the same control commands: read notifications, make friends, interact, watch videos, join groups… even complex tricks like change Password.
Unlike the massive increase in virtual interaction as before, this system has been installed by programmers to bypass the scourges of platforms.
Kieu Xuan Tung, a software engineer in Hanoi, said: "In the past, views increased very quickly, unnaturally, it made the platform not appreciate. The platform also relies on user behavior to evaluate whether the views are of good quality. The system here has customized adjust the actions that are most similar to human behavior so that the views are most natural".
Currently on social networks, the PhoneFarm service is publicly advertised, with features such as increasing interaction, helping to increase orders, and helping business people sell more products. Some systems also integrate buttons to play winning games on social networks. This model is also improved into more compact boxes, the phone also removes some parts such as battery, case to optimize operation.
The virtual interactive service was repeatedly squeezed by Facebook for violating community standards. Meanwhile, the terms of platforms such as YouTube, TikTok also prohibit the use of automated tools to increase views and comments. Therefore, systems like these are always at risk of being hacked by platforms
Mr. Bui Quang Linh, a technology technician, said that "Scanning platform errors are still abnormal errors. If you maintain a regular morning, noon, and evening behavior for 1 month, it will be abnormal. Because normally humans will have a lot of activities, so it's also a scannable bug".
In essence, Phone Farm takes advantage of the recommendation mechanism of social networking platforms, that is, if there are many interactions for a content, the platform will disseminate that content more widely to users. Therefore, if it is used for bad purposes such as spreading fake news or libelous and malicious content, it will be a danger to the community.
In Vietnam, there is currently no sanctions to manage the telephone farm service, so the legality of this service is still open. However, social networking platforms themselves are always looking for ways to limit virtual views and virtual interactions from these phone farms. All scams do not bring sustainable results.