Battle Chasers: Nightwar (80% off)
Battle Chasers: Nightwar is a role-playing video game (RPG) developed by Airship Syndicate and published by THQ Nordic.
The game is based on the comic series "Battle Chasers" by Joe Madureira, a famous artist who participated in the development of this game. Battle Chasers: Nightwar follows the journey of a group of characters, including the main characters from the original manga, in a mysterious and risky world. In the game, players will experience turn-based combat, explore diverse lands, gather resources, and learn about the story of the world in which they live.
Battle Chasers: Nightwar combines a turn-based tactical combat system with RPG elements such as leveling up, collecting gear, and exploring the vast world. The game is highly appreciated for the way it blends beautiful graphics, engaging storyline and diverse combat system.
Risen 3 – Titan Lords (75% off)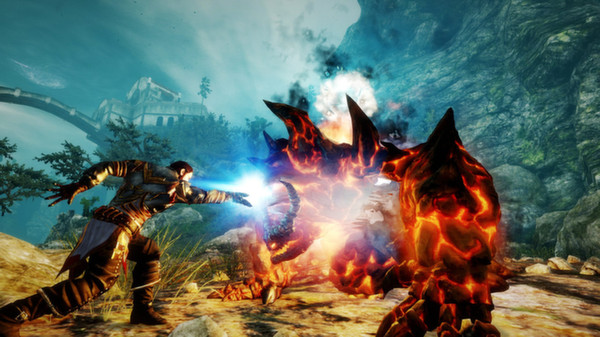 In Risen 3: Titan Lords, the player takes on the role of a hero trying to restore his soul after it was lost in a monster attack. The plot revolves around fighting the forces of darkness to find peace in the land.
The game uses a third-person perspective and allows the player to freely explore the world, engage in turn-based or real-time combat, and customize their character through skill development and acquisition. collect equipment. A key element of the game is the ability to interact with the side characters and the world around them in search of quests, information, and resources.
Chronos: Before the Ashes (90% off)
Chronos: Before the Ashes is in fact a remake and expansion of the virtual reality game called "Chronos" that appeared before it. In the game, the player will take the role of a hero who explores a mysterious and dangerous world in search of a way to prevent a catastrophe from ravaging the world. A special feature of the game is the aging system, in which the character will age every time he dies and the player must adapt to this change in gameplay.
The game combines elements of combat action, puzzles and open world exploration. Players will explore different lands, fight monsters and use weapons and skills to meet challenges. The game's story and world are both designed to create an engaging experience for players who love the action RPG genre.