Dragon Ball fans know that Goku defeated Frieza on planet Namek. Frieza the Great has come to the planet of the Namekians to obtain the Dragon Balls to wish for immortality. During the journey to obtain the Dragon Ball, Frieza showed cruelty, cold blood when killing many creatures, defeating many opponents, including Goku.
Only when Goku achieved Super Saiyan status, after witnessing Krillin's departure, did Monkey have a chance to turn the situation around. If Frieza at that time was not subjective, feeling that he had defeated Goku, so he took the time to bring a tormenting death to the Saiyan warrior, perhaps he would have won absolutely.
Frieza thinks it is possible to defeat Goku's fighting spirit by killing friends and family in front of him. First take Piccolo's life, then blow up Krillin and attempt to finish off Gohan. However, instead of breaking down and despairing, Goku became angry and exploited his latent potential, becoming a Super Saiyan.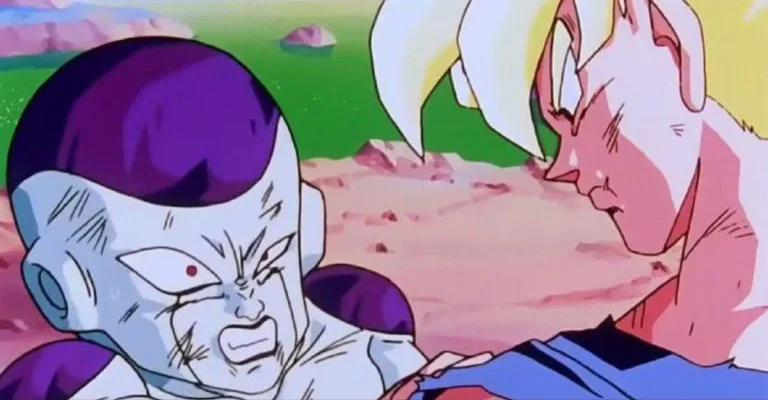 Goku then overwhelms Frieza with defeat, but the bad guy continues the fight in hopes of winning. As Frieza lay waiting for death to pick him up, Goku gave him just enough energy to leave the planet Namek about to explode.
Instead, Frieza uses this opportunity to taunt Goku and attack the opponent with the given energy. Goku used his Kamehameha to finish off the galactic tyrant. If not stubborn, perhaps Frieza could have survived the battle on planet Namek.
Later on, Dragon Ball Super introduced an insidious, dangerous character similar to Frieza but from Universe 6. That was Frost. Although also very strong, this guy has cowardly tricks, sneaking in the dark. Frost often poisons his opponents, hiding poison needles in the backs of his hands and tail to avoid detection. This cheating was eventually revealed by Jaco, and was eliminated from the tournament after being defeated by Vegeta.
However, Frost's trick leaves many wondering what would happen to Goku if Frieza did the same thing? Frieza and Frost are very similar, both cunning and evil. However, Frieza never used the poison needle to defeat his opponent. But assuming that Frieza did so during his battle with Goku on Planet Namek, perhaps his plan worked.