24-year-old British actress Jessica Alexander is the human version of the witch Ursula in the live action version Mermaid suddenly received great attention from the audience when the film of the Mouse family was released in theaters.
In the work, Jessica appears at the end of the film and does not have much acting ground, but the young actress's shape, beauty and acting are highly appreciated. Many people praised her as a character close to the original, coming out of the story.
On Twitter, an audience member shared a story praising Jessica Alexander but was soon blocked by the actress. Specifically, this person said: "She (Jessica) is really beautiful, but I am a bit disappointed. She blocked me because I left a message that she should play Ariel."
Jessica Alexander's reaction is considered an act of support for "the mermaid Ariel" by the black actor Halle Bailey. Discussions related to this issue have reached 2 million hits on Twitter.
Jessica Alexander has participated in a number of works before but has not resonated, she gets more attention when she plays Mermaid. She and Halle Bailey also became good friends after collaborating. The two have repeatedly complimented each other in interviews.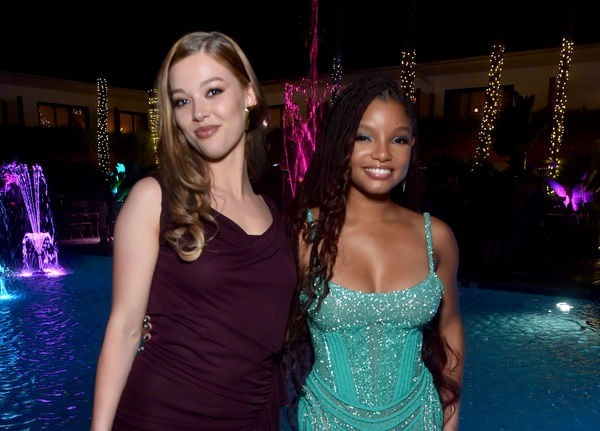 Jessica Alexander and Halle Bailey became close after the movie
After the first week of the film's release, the heroine Ariel played by Halle Bailey continues to receive many controversies. The acting of the actress born in 2000 has not been excellent to please the public.
According to EntGroup, Mermaid ended its opening weekend in China with $2.63 million, making it Disney's lowest-grossing film so far this year. Black Panther: Wakanda Forever earned $5.9 million in its opening weekend, Ant-Man and the Wasp: Quantumania grossed $19 million and recently Guardians of the Galaxy Vol. 3 with $27 million.
While the work looks bleak in the market of the country of billions of people, in the US, Mermaid grossed an impressive $118 million in 4 weekends. Global gross is $185.8 million, according to The Hollywood Reporter.
There are mixed opinions about the movie. Most critics praised Halle Bailey's singing talent as Princess Ariel, but the content development was not as dramatic as expected. Besides, the technical and aesthetic factors were not appreciated, the audience reacted quite violently when the clips and images for the characters Sebastian and Flounder were revealed.
According to Ettoday, EntGroup