In 2015, a new trend in the job market emerged, many women tied their legs tightly and wrapped around their feet 20-pound fishtails. They swam back and forth in the glass tank for the passing tourists to admire.
That's right, their job is to be a mermaid.
According to Fast Company estimates, in 2015, there were about 1000 Americans making a living from this profession. A number not too large, but enough to prove that people still have a need to recruit this position. In fact, the profession of mermaid is only most popular in America.
To meet the growing demand, a number of companies have begun to focus on producing fishtails, offering mermaid "training" classes, providing hairstylists and makeup exclusively for fairies. fish, there are even annual meetings between mermaids. The attendance was modest, but they were extremely enthusiastic.
In the US there is an annual gathering dedicated to mermaids called the North Carolina Merfest. People also often caught them walking with "pirates". However, these pirates have the role of helping the mermaid move on shore.
Festival organizer Chris Chandler shared: "When mermaids perform with their tails, they cannot move their legs, so they need assistants to help lift them up and carry them around. This character dressed up as a pirate to create more emphasis."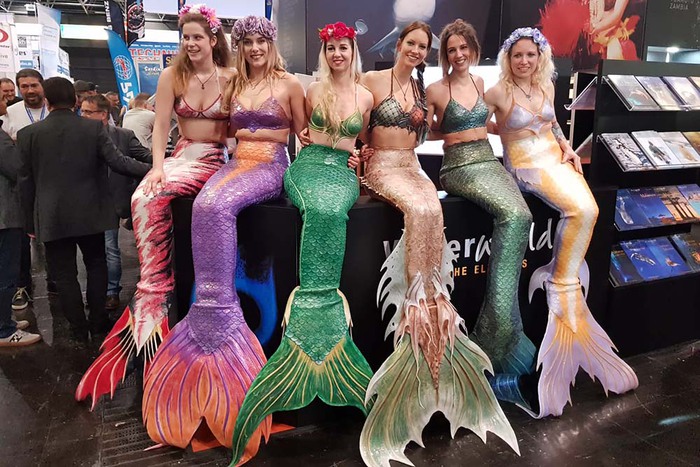 Living on the bottom of the sea, away from the pressures of everyday life, sounds appealing, but the process of learning to swim with a fishtail (monofin) is not at all. For example, buying a silicone fishtail alone costs more than $2,700 (more than VND 63 million). After buying a fishtail, you have to invest in mermaid classes.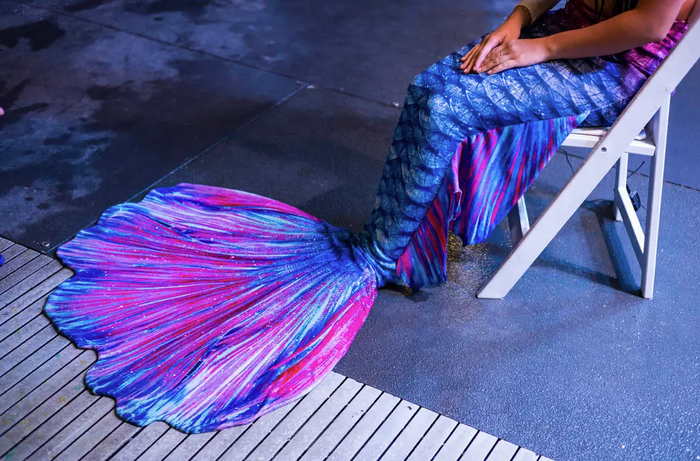 The fishtail is an extremely expensive part
Fortune newspaper had the opportunity to talk with three women who are working as mermaid to better understand the hidden corners of the profession. They all described this job as requiring a lot of physical endurance, but when they learned the job, it was difficult to follow the job, because the recruitment demand was not high. However, none of them felt that their efforts were wasted. The only motivation that helps them stay in the profession is their love of the ocean.
Linden Wolbert has always felt more comfortable in the water than on land. Although she studied film and science, and earned a diploma from the prestigious Emerson College in Boston, she gave up everything to pursue a career as a mermaid.
She is fondly called by some people as "pioneer mermaid", because she has great merit in popularizing this profession, making fans and employers pay more attention to the profession of fish names. She admits when she first got into the profession a decade ago, she didn't even know if anyone else was out there doing the same thing, she was simply doing what she loved.
"All I can do is dream of the ocean," Linden Wolbert confided.
Contrary to popular belief, Linden Wolbert's mermaid not only swims around in a large swimming pool for passersby to watch, she also aims to educate young children about ocean conservation and underwater safety. water. Perhaps it is the combination of career and education that makes her career soar. The difficult years at the beginning of his career are now in the past. Today, she has a list of celebrity clients such as Jessica Alba, Justin Timberlake and Jessica Biel.

Mermaids can teach swimming, safety education for children
Although she is financially better off, she also admits that performances sometimes take a toll on her health. "I walked out of the show with back pain, sinus infections and all sorts of weird rashes." she said.
Every little girl's dream
Carli Goodworth is one of many mermaids working at Weeki Wachee Springs State Park in Spring Hill, Florida, USA. The park has a tradition of hosting mermaid shows at the underwater theater since 1947. Goodworth has a full-time job as a middle school PE teacher, but for the past 11 years, she's worked hard as a princess. mermaid overtime and earn 13 dollars (305,000 dong) an hour. The job does not help to increase her income, but in return, she receives admiring glances from the locals.
"I heard about mermaids during my childhood years. Thanks to watching a mermaid show when I was a kid, I dreamed of becoming a mermaid when I grew up." Carli Goodworth shares her childhood dream.
Wolbert also confirmed that this is a job that requires a lot of physical endurance: "Becoming a mermaid requires a lot of sportsmanship. Before getting a first gig, almost every girl has to train for months or more than a year."
This still hasn't stopped Wolbert, at least for now. She confided: "This is a very magical job, I get to live in a fairy-tale atmosphere, to see the bright faces of little girls when I see a real mermaid.
She recently teamed up with Body Glove International to co-produce the Monofin fishtail, a children's accessory for only about $30.
Melissa used to work as a trainer for water show entertainers, marine mammal trainers and lifeguards, so when she embarked on being a mermaid, no one was surprised by her decision. hers. She was fondly called "mermaid" before she even put on a fishtail.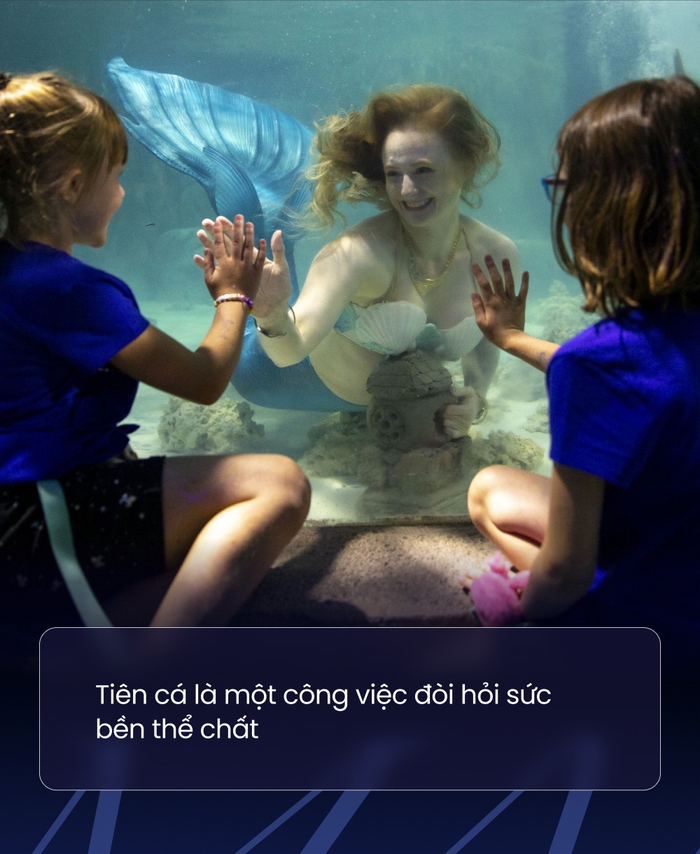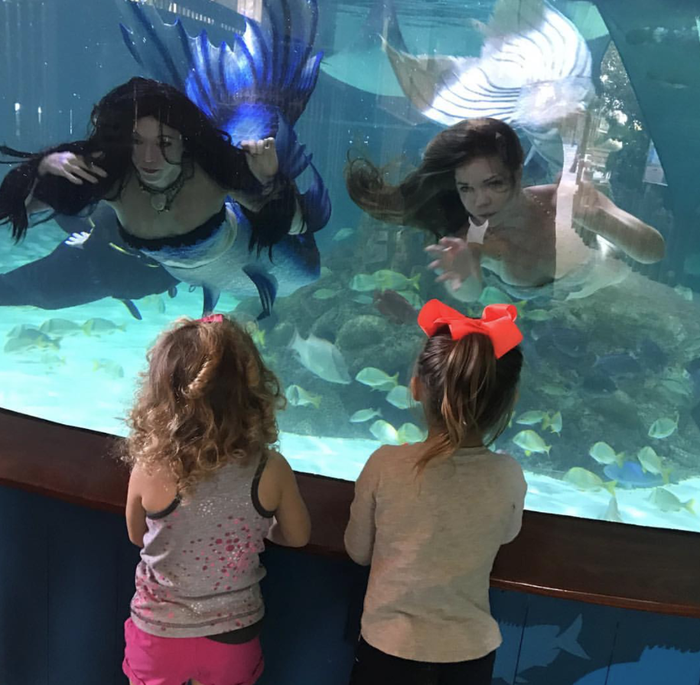 She said: "I've been called a mermaid most of my life because of my great swimming skills and love for the ocean."
Melissa did not disclose the salary she received, but only revealed that this job requires a lot of investment in travel and travel, so people implicitly understand that it is not cheap, for example, installing a swimming pool. Giant fish is already a small expense.
The downside of the job, aside from the physical demands, is the high chance of getting sick if you spend all day in cold water. However, she still wants to focus on the more positive side: "I love how the crowd reacts during performances and also enjoy chatting and interacting with people after the show."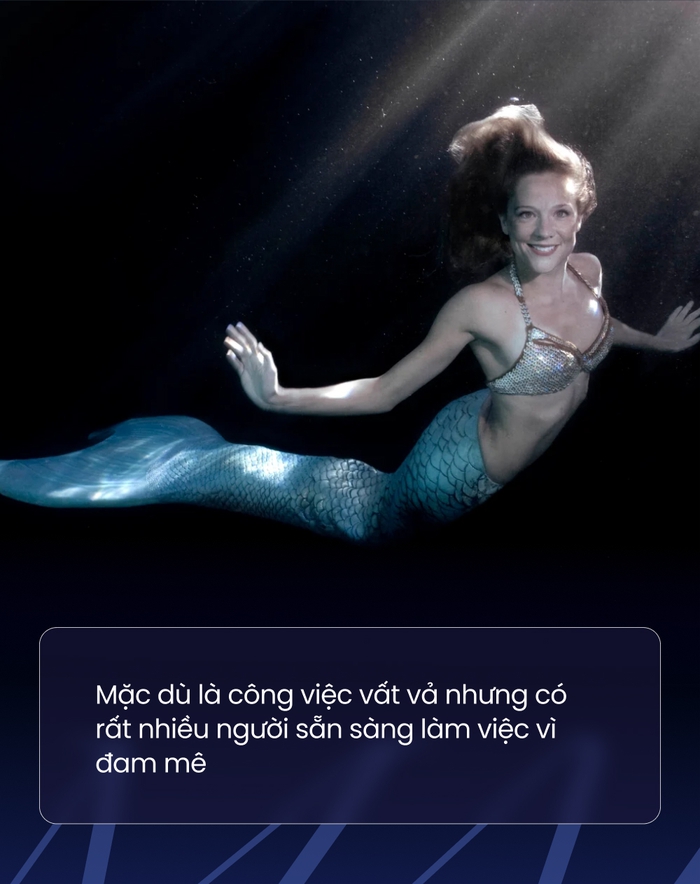 Mermaids are "crossing" out of the US
The profession of mermaid originated and is most popular in the US, but gradually European and Asian countries are catching up.
Claire is a woman of French descent. She learned to be a mermaid in her 20s and claims to be France's first professional mermaid. Perhaps because at the time she started her apprenticeship, people did not have a concept of what it was to be a mermaid, so it was extremely difficult to find fishtails and supporting tools. Along with the rising wave, a number of training facilities were opened gradually. On May 23, 2015, France's first mermaid school was opened, focusing on water performance courses. According to Vice, classes are also being opened everywhere – the Philippines, the US, Germany, Spain and France. Typically, just two months after the Sirenas Mediterranean Institute in Tarragona, Spain, opened its training class, more than 500 students have signed up.
JodiAnn Stevenson, founder of Mermaid Fitness, a mermaid training company in the US, commented: "Most people are attracted to something new, even if it looks extremely out of the ordinary. After all, there are a lot of people who love mermaids."