Pokémon Horizons gave audiences a Pikachu like never before. Although it must be affirmed that Captain Pikachu will not be the main character of Ash's Pikachu level.
Captain Pikachu impresses with special abilities, in contrast to Ash's Pikachu. He has his own personality that sets him apart from the Pikachu we all know and love, aside from his preference for wearing hats on his head.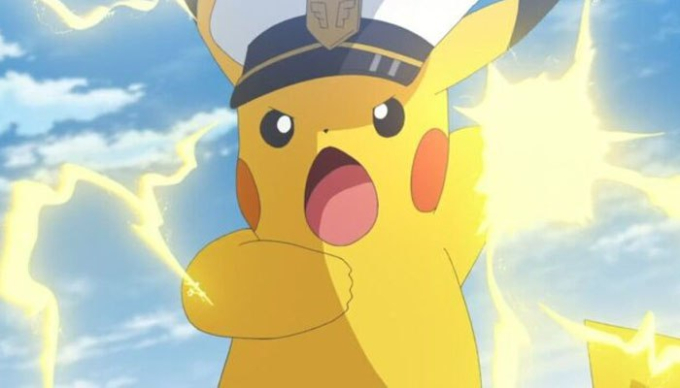 Captain Pikachu has shown himself to be a brave warrior. Whether in real battles against Amethio or training against Roy and Riko, his dodging and aerial maneuverability is undisputed.
In episode 17, Captain Pikachu's ability to gracefully land with a wag of his tail was highlighted. This is clearly a feat that sets this Pikachu apart from the rest.
However, Captain Pikachu didn't just jump through the sky. In fact, he is flying. Even the nickname "Captain" showed his love for the sky. The coming time will soon reveal more about how Captain Pikachu learned this unique skill, something completely new and remarkable.
Captain Pikachu's ability to fly may be due to Tera Flying, a new ability introduced in Pokémon Scarlet and Violet.
In other words, this is a temporary transformation of a Pokémon in battle. That will change the Pokémon's type to the Tera Type it owns and remove all other types. For example, if an Electric-type Pikachu has a Tera Type of Flying, when using a temporary transformation, it will completely transform into a new type of Flying, leaving the previous system of Electric. To do this, Pikachu needs to use the item Tera Orb.
In short, the ability to fly is a trait that really sets Captain Pikachu apart. The decision to bring Tera Type into the Pokémon world is perhaps an interesting and meaningful one for other Pokémon that have not yet Terastalize (transformed).
Apparently, Pokémon Horizons is making compelling choices with its characters, including Captain Pikachu. It's a remarkable development that adds depth and excitement to the story.