After succeeding with anime and manga, One Piece has now expanded into a variety of other entertainment mediums, including live-action and open-world games.
Netflix's One Piece live-action series has was announced in 2017. Slowly but surely, Tomorrow Studio worked hard to bring this movie to the audience.
Netflix previously announced that the film will be released in 2023. Fans have expressed concern because many previous Hollywood live-action film adaptations of anime or manga have failed. One Piece creator Eiichiro Oda himself had some doubts about the live-action film at first. However that was cleared up after Netflix assured Eiichiro Oda that they would not release the film until he was satisfied.
Furthermore, Eiichiro Oda said that, considering my actual "lifetime", this live-action is the last chance to bring One Piece to the world. Here is Oda's full message shared by Netflix on Twitter:
"I've been working with Tomorrow Studios and Netflix for a while now. Even though they understand each character, it's clear that we come from very different cultures. So when it comes to entertainment, we have different rules, skill sets and goals. Sometimes it can be frustrating for both parties. It feels like 'We're all trying to get to the same place, so why aren't we on the same wavelength?'. There was even a time when I thought 'Is it possible to produce overseas?'.
We have worked hard all this time. And now, everything is being perfected. We are here at last! Considering my expected lifespan, I believe this is my last chance to bring One Piece to the world. If we're going to do that, I'd like to be able to monitor everything while I'm still active.
That's why I agreed to a live-action One Piece adaptation in 2016. Since then, Netflix has committed huge resources to the production process. It was announced that the show would launch in 2023, but they promised that it wouldn't come out until I was satisfied.
The entire cast and crew, spanning from many different countries, is filled with love for One Piece! They are burning with passion and I remind everyone involved that this is going to be fun. We are in the final process! Right away complete all 8 episodes! We'll be setting sail very soon!!"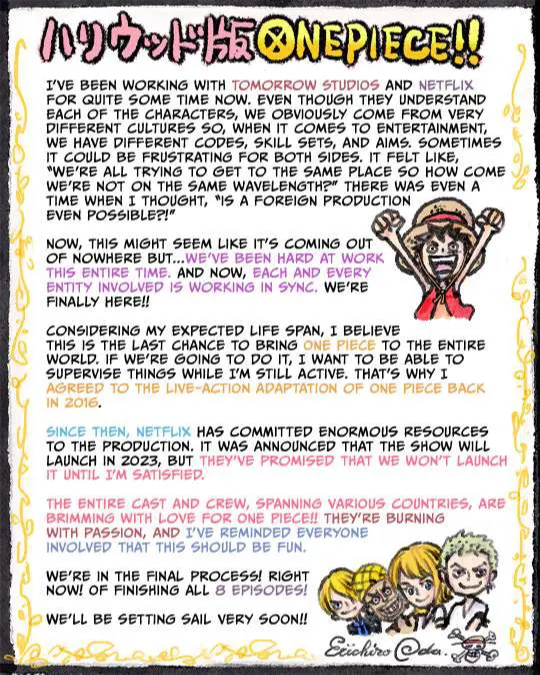 Production of the One Piece live-action finished in August 2022, so the production team is taking time to perfect the film.