ASUS recently introduced a new generation of gaming laptops under the ROG Flow product line, whose full name is ASUS ROG Flow X16. This is the new version of 2023, equipped with extremely many outstanding advantages in design, performance, flexibility to meet all user needs in a thin and light body.
Slim and flexible design, but still has a gaming quality
Appearance is probably a huge advantage of ASUS ROG Flow X16 when this machine possesses an impressively thin and light design. If viewed from the outside, few people can recognize this as a gaming laptop because the appearance of the machine is not too aggressive, but it is still enough to identify the typical gaming "quality" of ASUS ROG.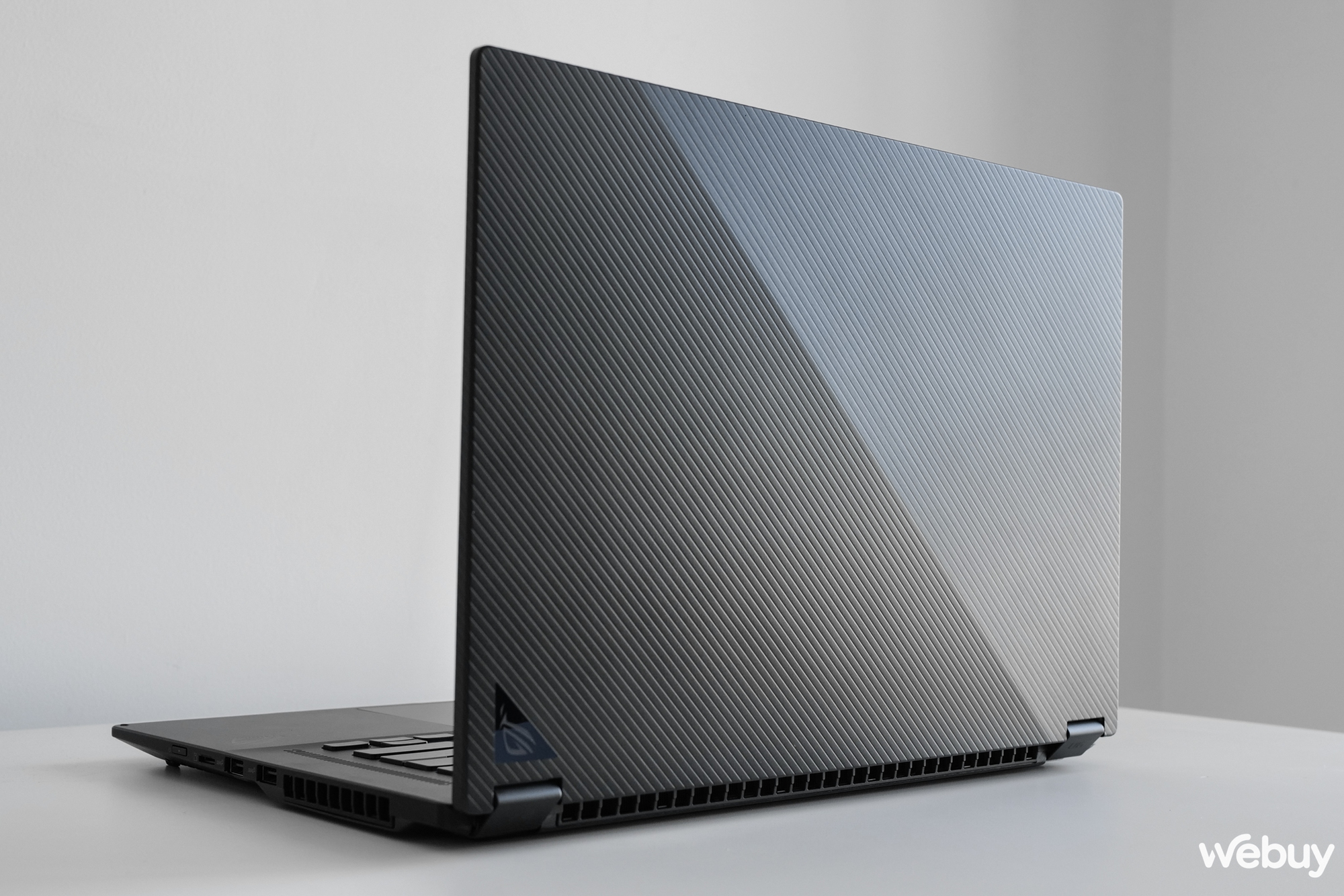 The entire body is finished from aluminum alloy mixed with magnesium, helping to reduce the weight of the machine to only 2.2kg, too light for a powerful gaming laptop like ROG Flow X16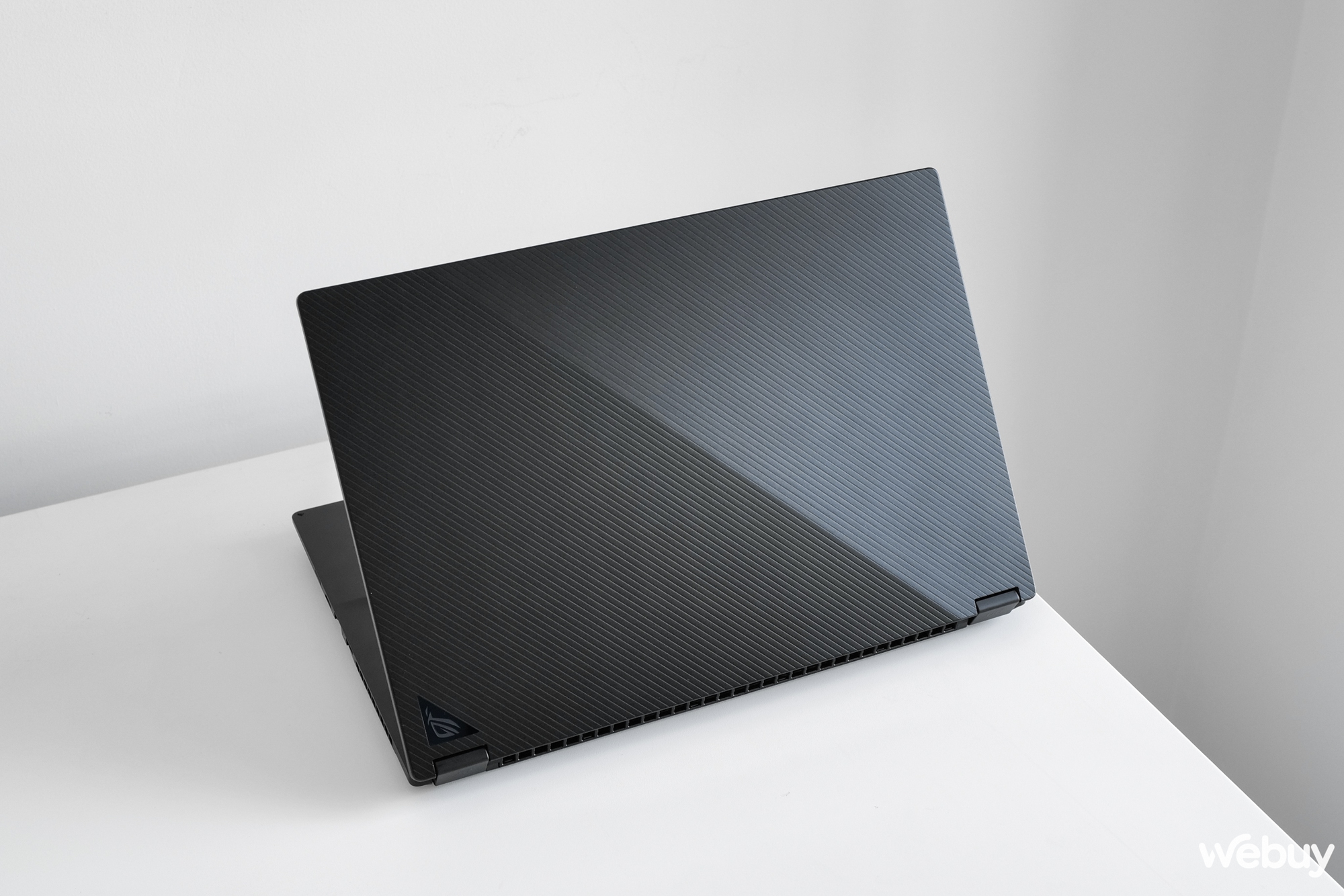 The A side of ROG Flow X16 has beautiful diagonal stripes, dividing this surface into 2 halves with 2 different tones, creating a unique feature for the product.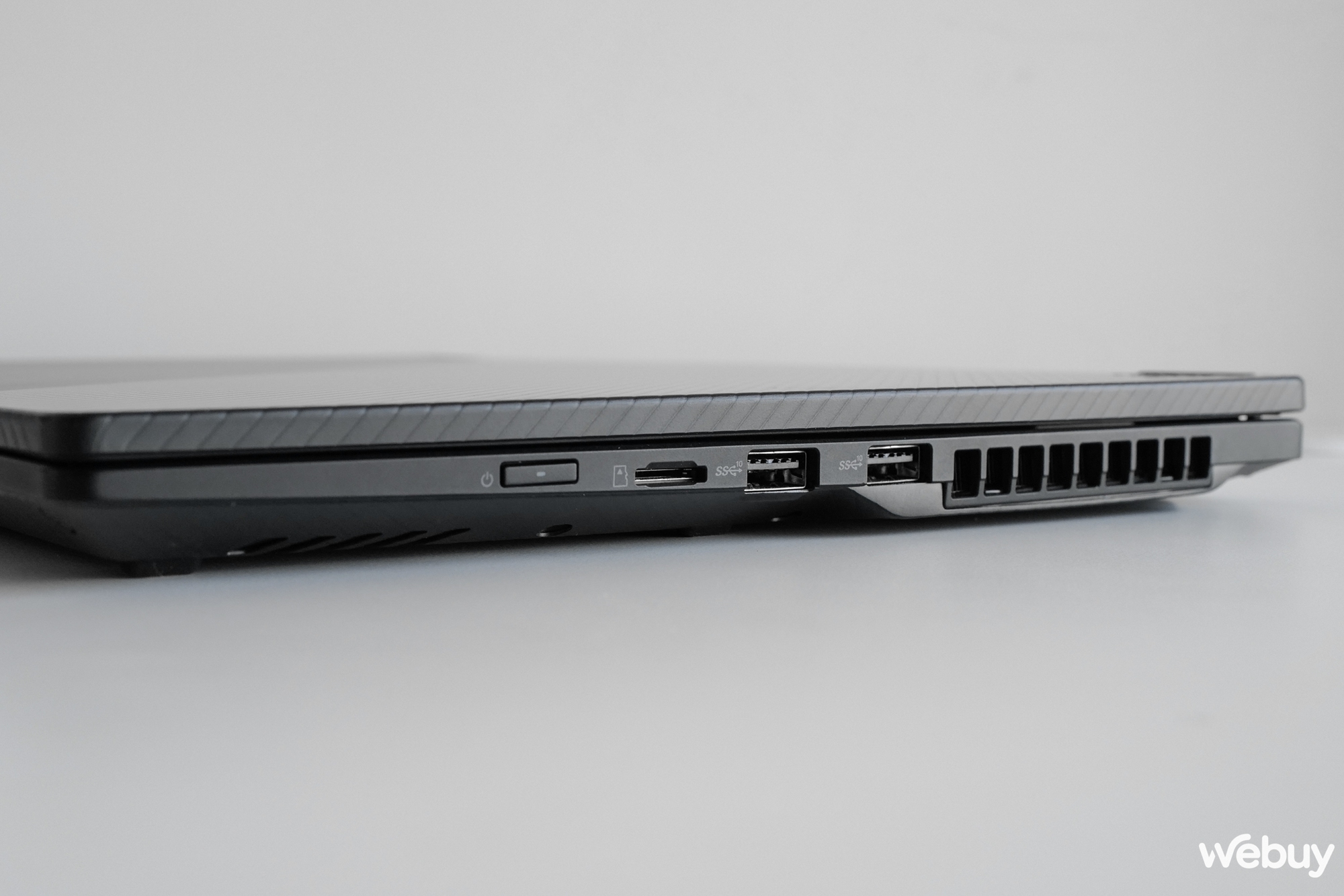 It is known that the body of ROG Flow X16 is just over 2cm thin (dimensions 35.5 x 24.3 x 2.19cm) and has a body weight as mentioned of 2.2kg, a weight level that is quite enough. Comfortable so you can take it anywhere in your backpack without feeling tired on your back or shoulders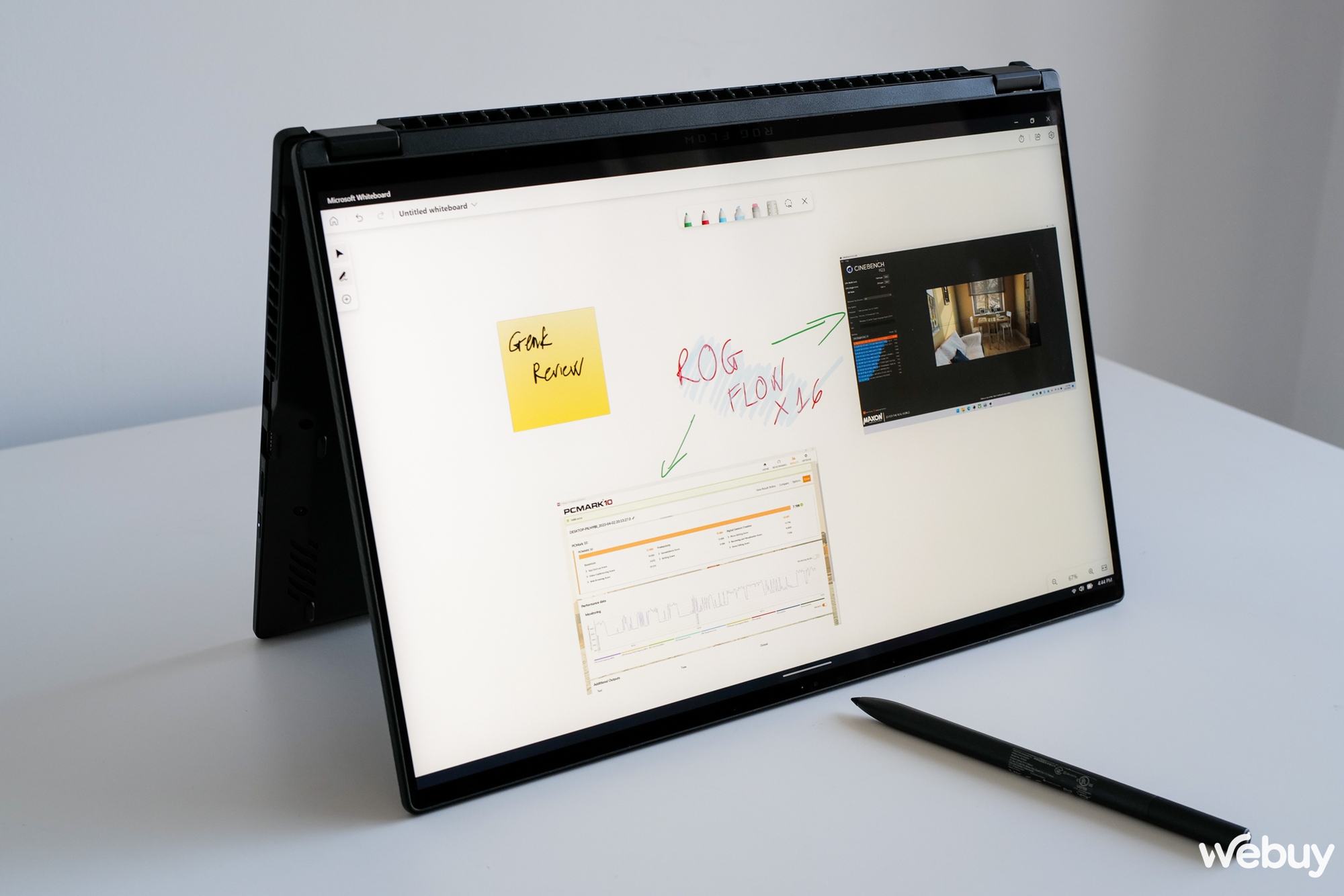 Besides, as we mentioned in the article title, ASUS ROG Flow X16 is the first 16-inch gaming laptop from ASUS equipped with a 360-degree folding hinge, providing flexible use between a laptop and a laptop. laptop and a large tablet. Thanks to the great performance that ASUS equips for this product line, ROG Flow X16 is confident to be the most powerful folding screen gaming laptop on the market today.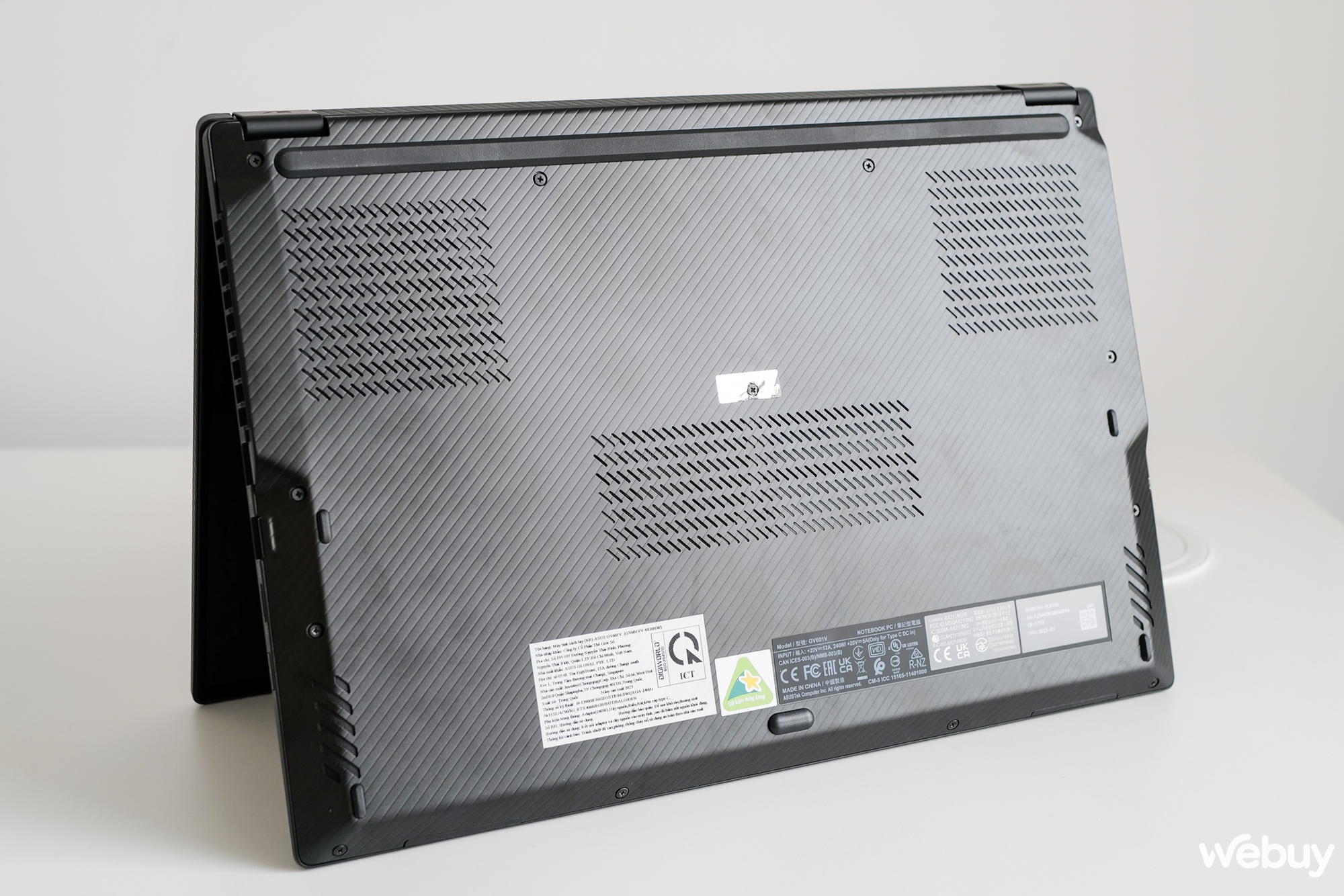 The bottom (D side) of the product is also designed with beautiful diagonal stripes and large heat dissipation holes.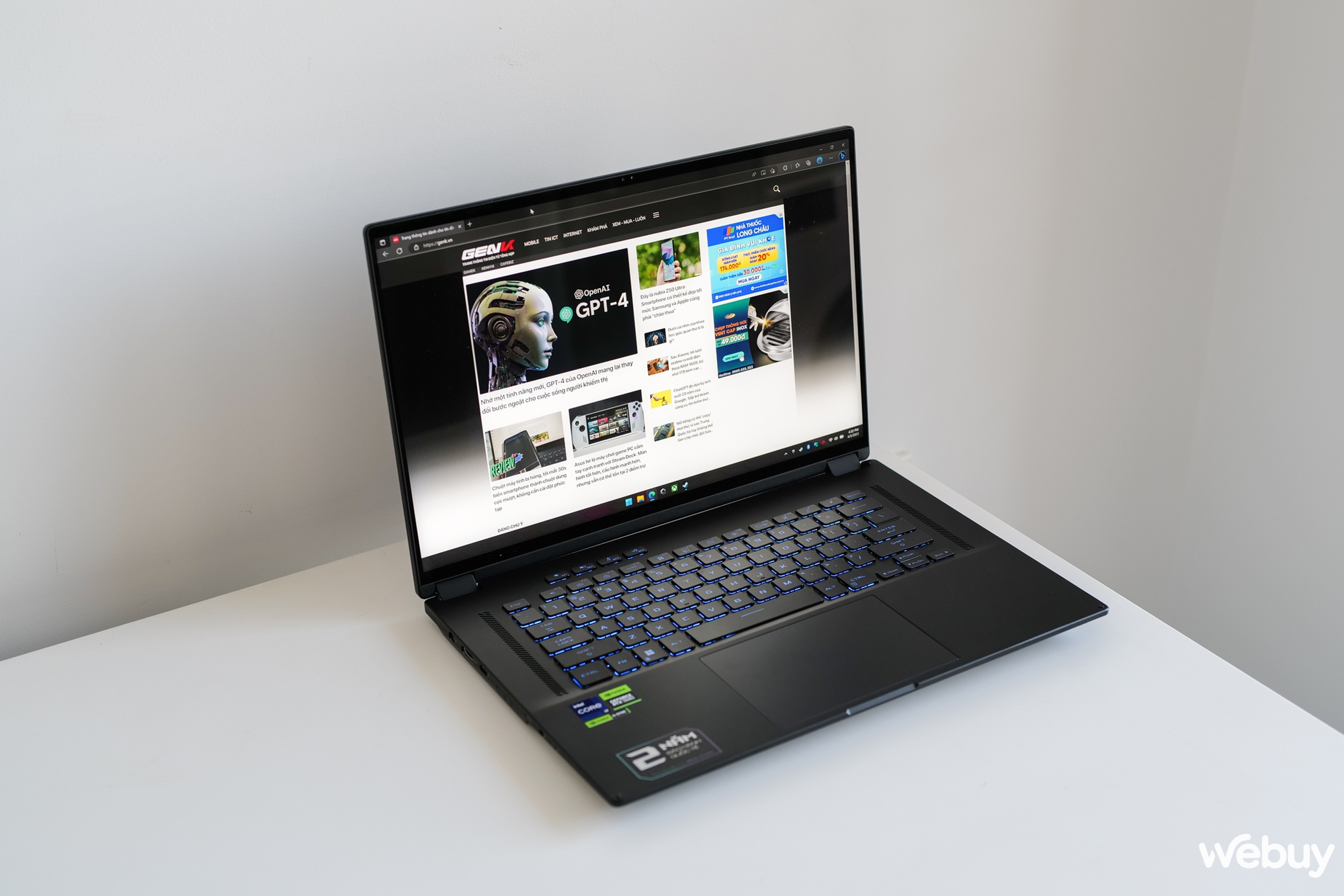 The device also has a custom RGB LED keyboard with Armory Crate, with a large size Trackpad for a comfortable use experience.
Impressively beautiful Mini LED screen
Besides the optimized and flexible design, the monitor of ASUS ROG Flow X16 is also rated as one of the monitors with the best display quality in the gaming laptop segment.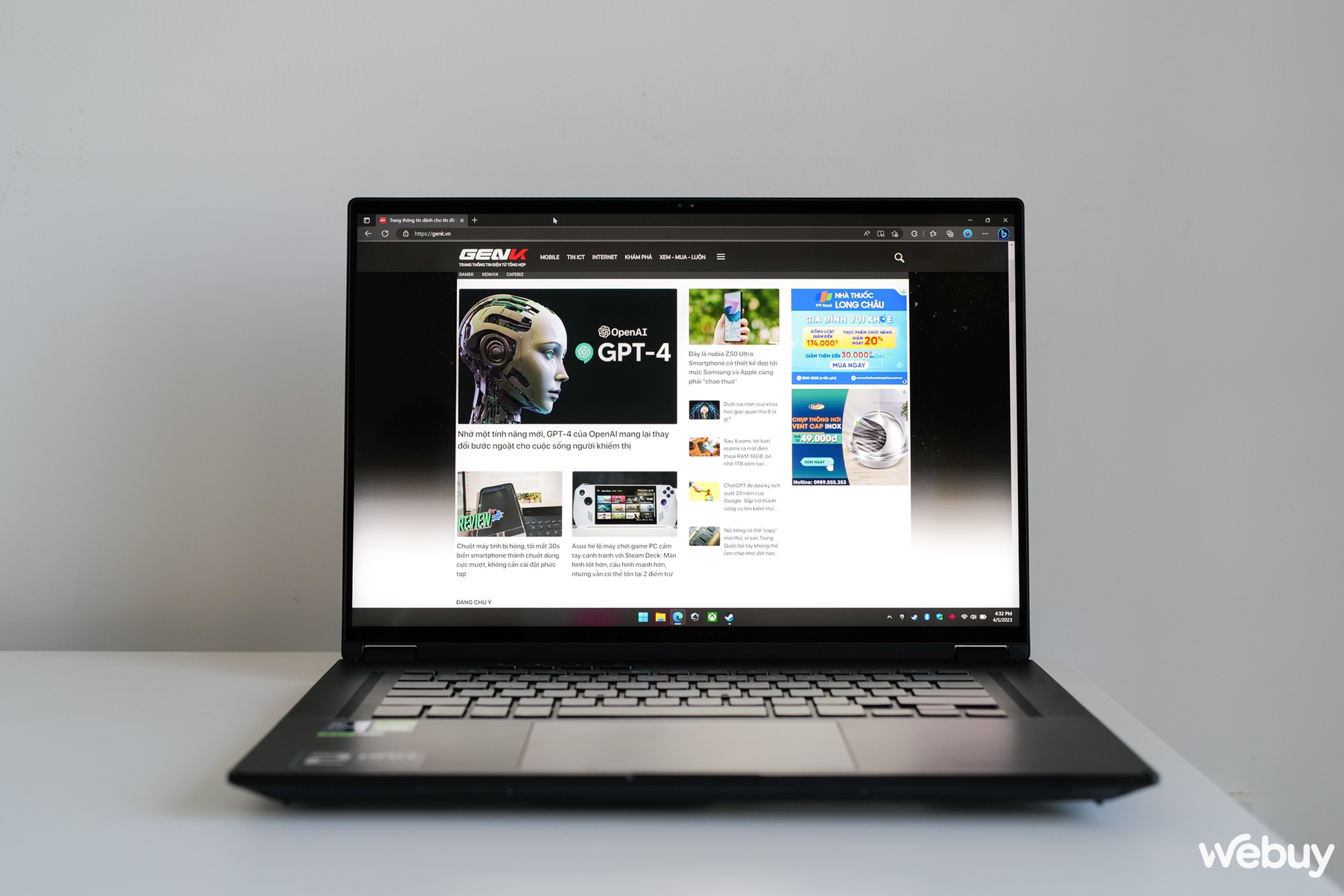 ASUS equips ROG Flow X16 with a large 16-inch screen, using a high-end Mini LED panel that is not a common panel on the market. The advantage of Mini LED panels comes from the extremely "delicious" display, high brightness and high contrast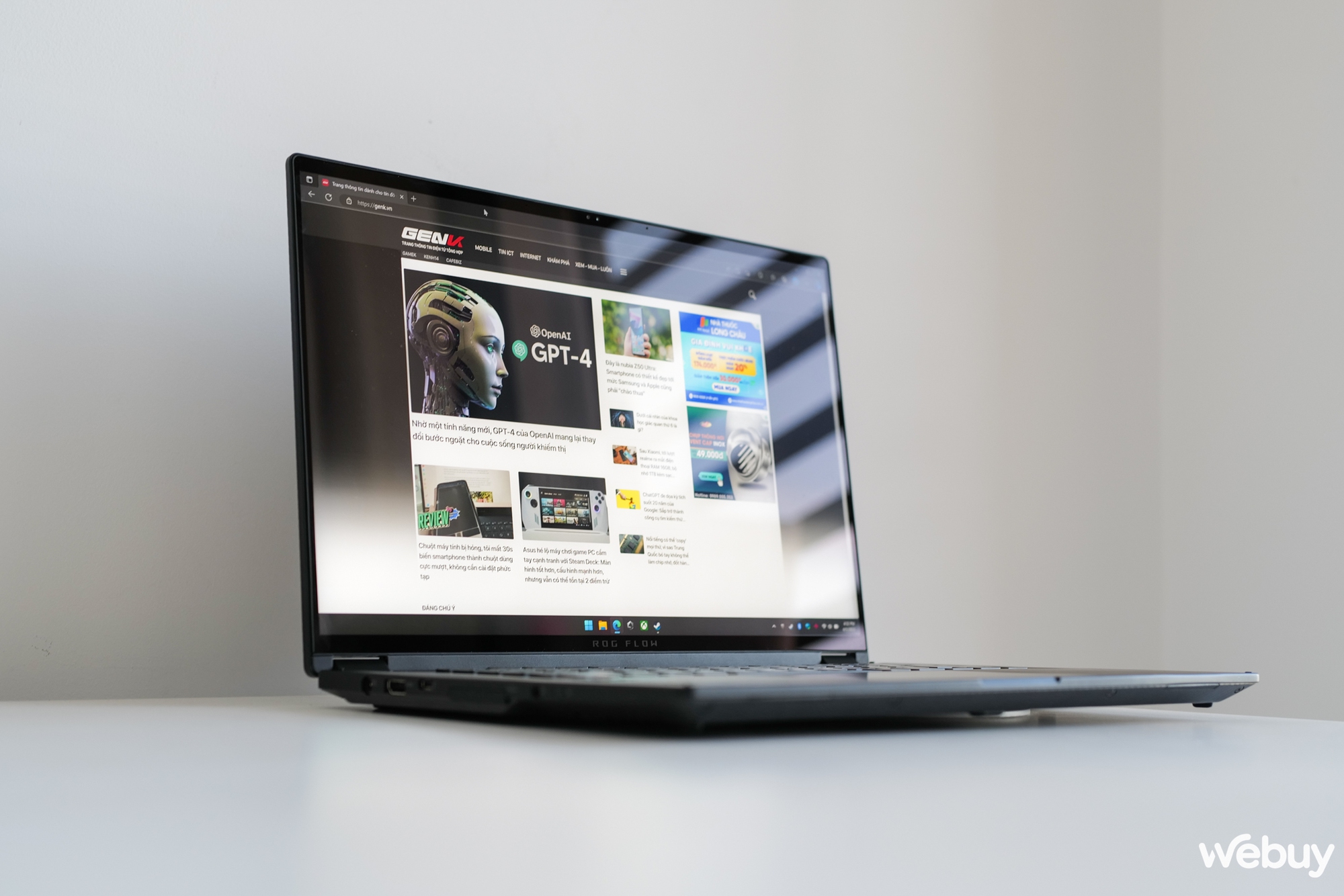 This screen has 2K resolution, high-end 240Hz refresh rate along with 3ms response rate. These parameters are not too strange for gamers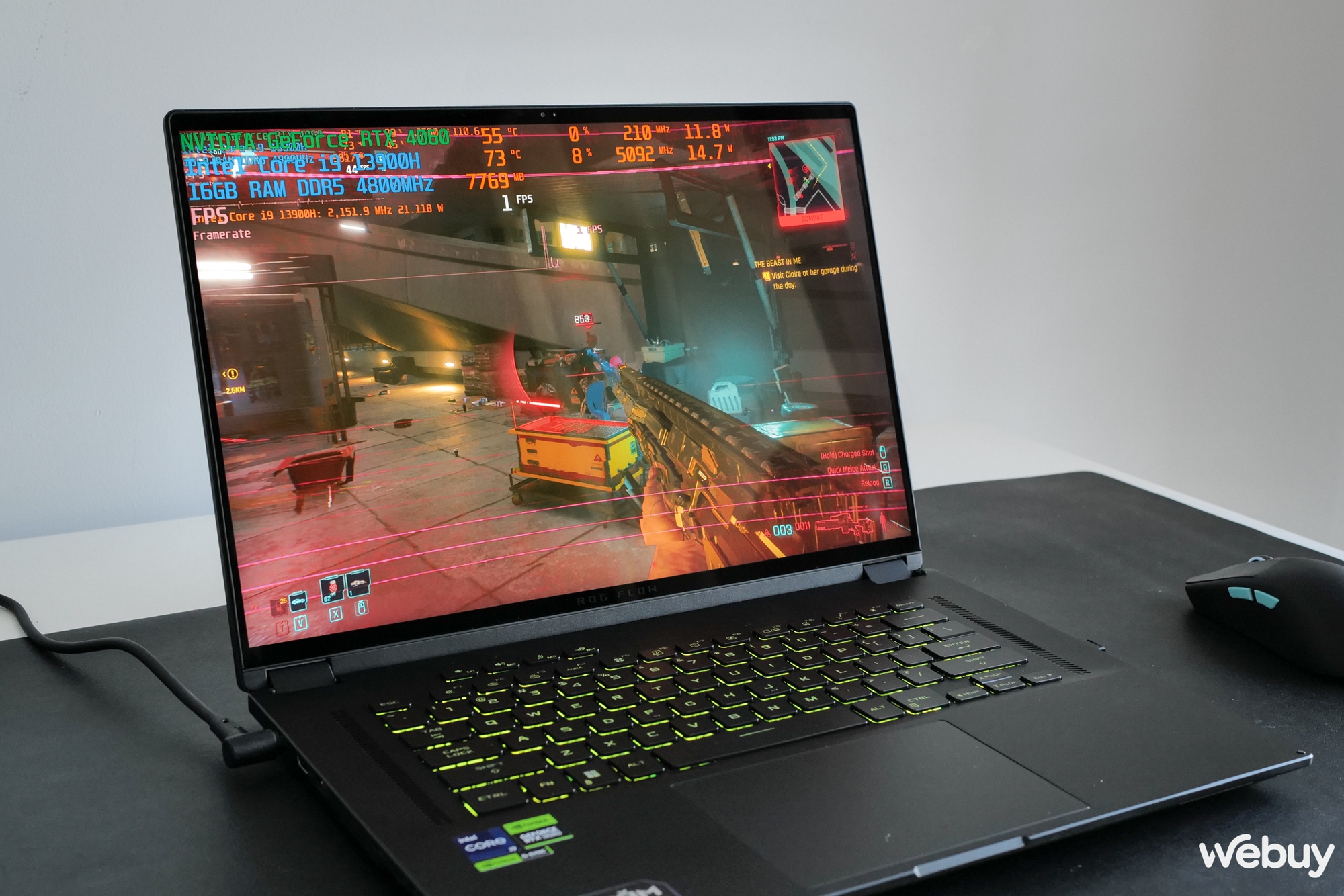 This monitor meets the standards of ROG Nebula HDR and VESA DisplayHDR™ 1000 technology. The entertainment or work experience on this monitor is great. Not only gamers but also those who do creative work will be satisfied with the quality that this panel brings.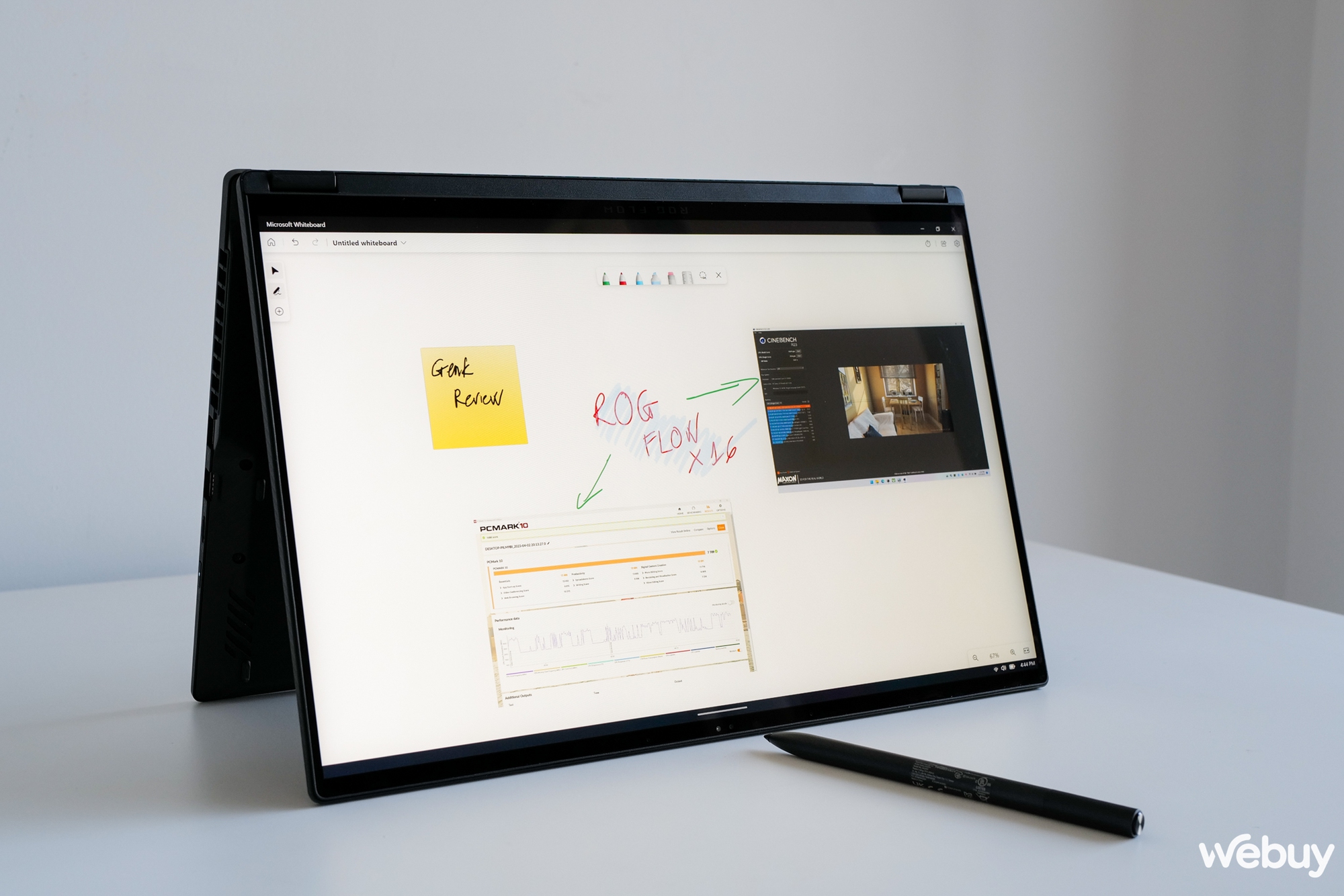 As can be seen, the Mini LED screen on ROG Flow X16 is one of the outstanding technologies on this product line that few products have. The display quality can satisfy any fastidious user
Performance "dinosaur", smooth all tasks
As a product of the gaming laptop line, performance is an outstanding advantage of ASUS ROG Flow X16. The machine is equipped with an Intel® Core™ i9-13900H Processor and NVIDIA Geforce RTX 4060 GPU, the current top duo, promising to satisfy the performance needs of any user. In addition, ocnf products equipped with DDR5 RAM can be upgraded to a maximum capacity of 64GB.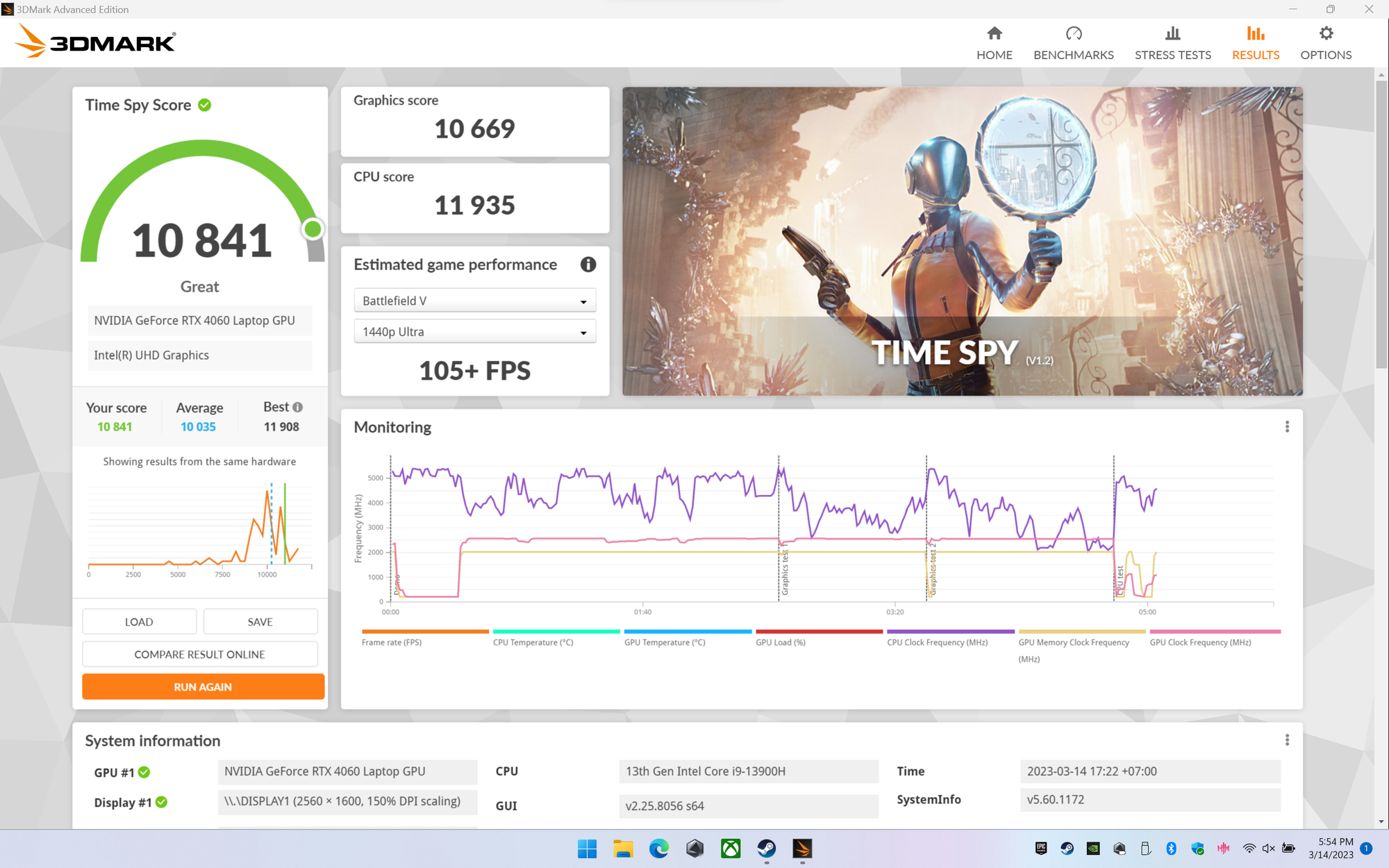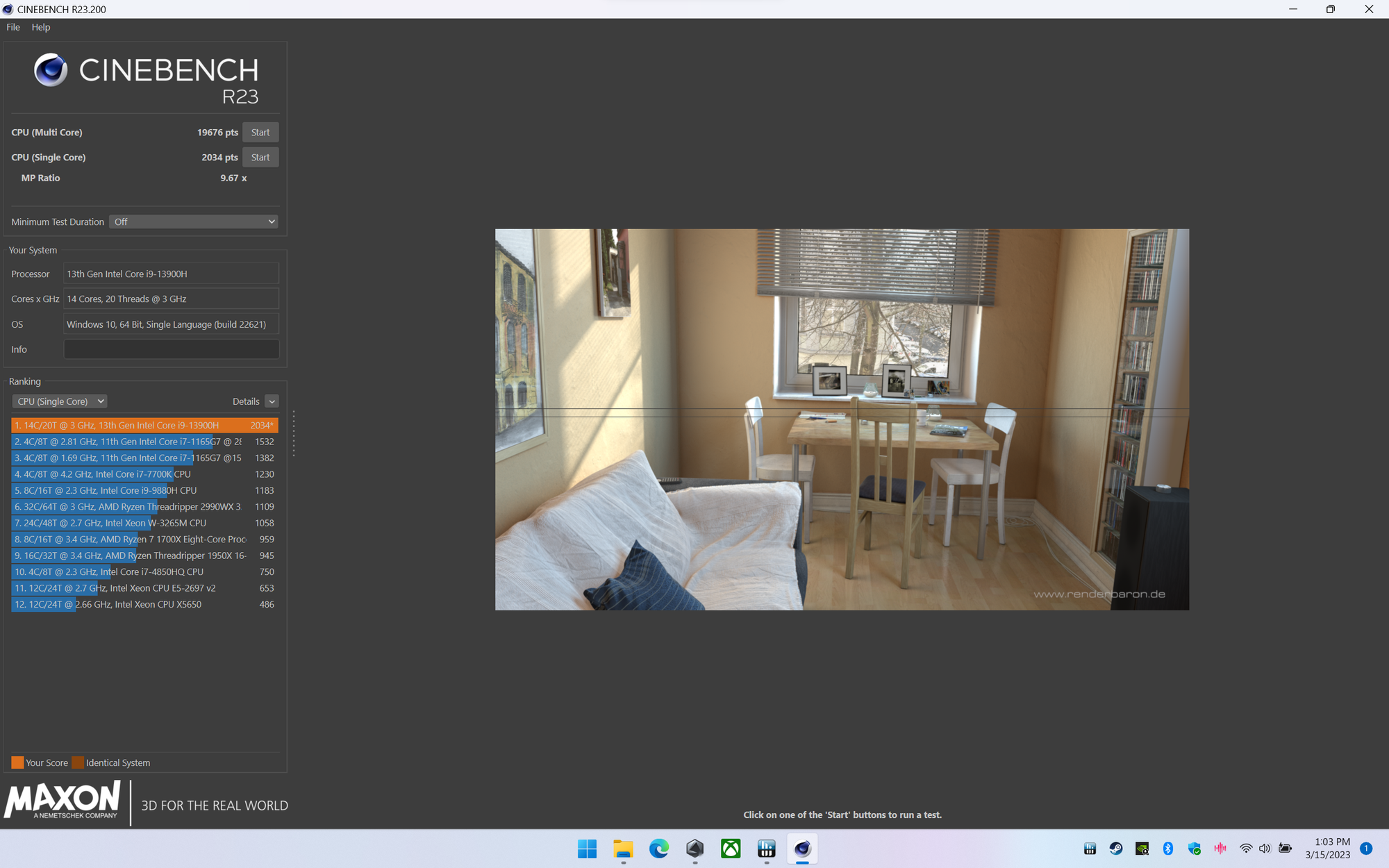 Performance score of ROG Flow X16 when marked with 3DMark and Cinebench R23 software: The machine achieved extremely terrible scores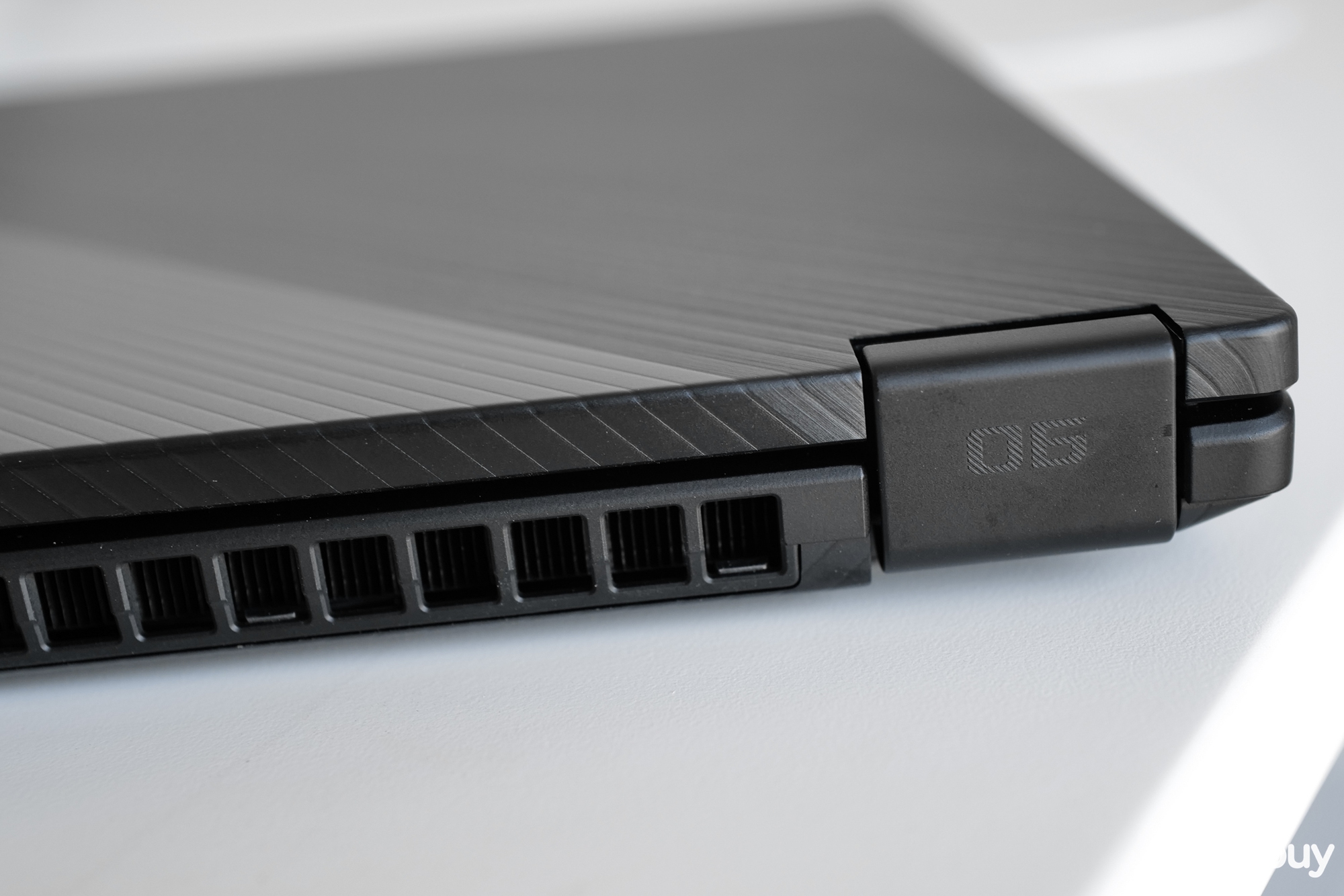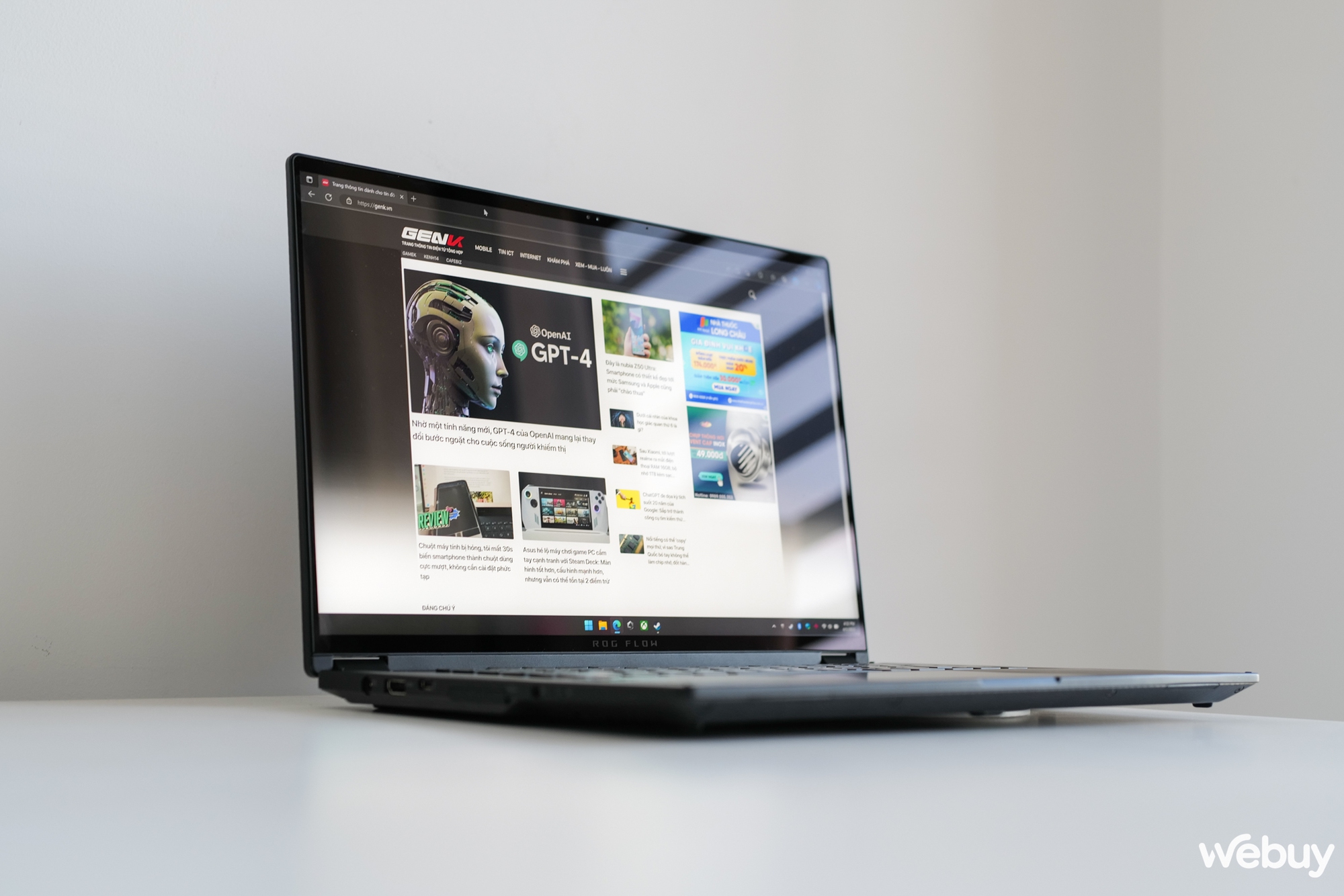 One of the factors that makes the performance of the device outstanding is thanks to the 3-fan system, the heat dissipation slot is designed around the body, along with Liquid Metal thermal paste on the CPU to reduce up to 15 °C, 17 times more effective than traditional ceramic thermal paste, thereby increasing the heat dissipation efficiency for the whole body as well as the internal processor, helping the machine's performance to be maintained at the highest level for a long time. longest time
With a performance level that can be said to be among the best in the market, ROG Flow X16 can completely "weigh" smoothly all popular games on the market quite easily, even graphics software that require more power. The power of both CPU and GPU can't make Flow X16 difficult. Anyway, this is also one of the top gaming laptop product lines today.
In particular, ROG Flow X16 also supports XG Mobile technology, a feature that allows users to quickly upgrade the graphics GPU of ROG Flow X16 to RTX 4090 when needed.
A unique point that few gaming laptops have is that ASUS even gives users an ASUS Stylus stylus to make it more convenient to use in 360-degree folding screen mode, extremely suitable for users. suitable for users who need graphic tasks such as designing, or simply need a high level of precision when using a pen.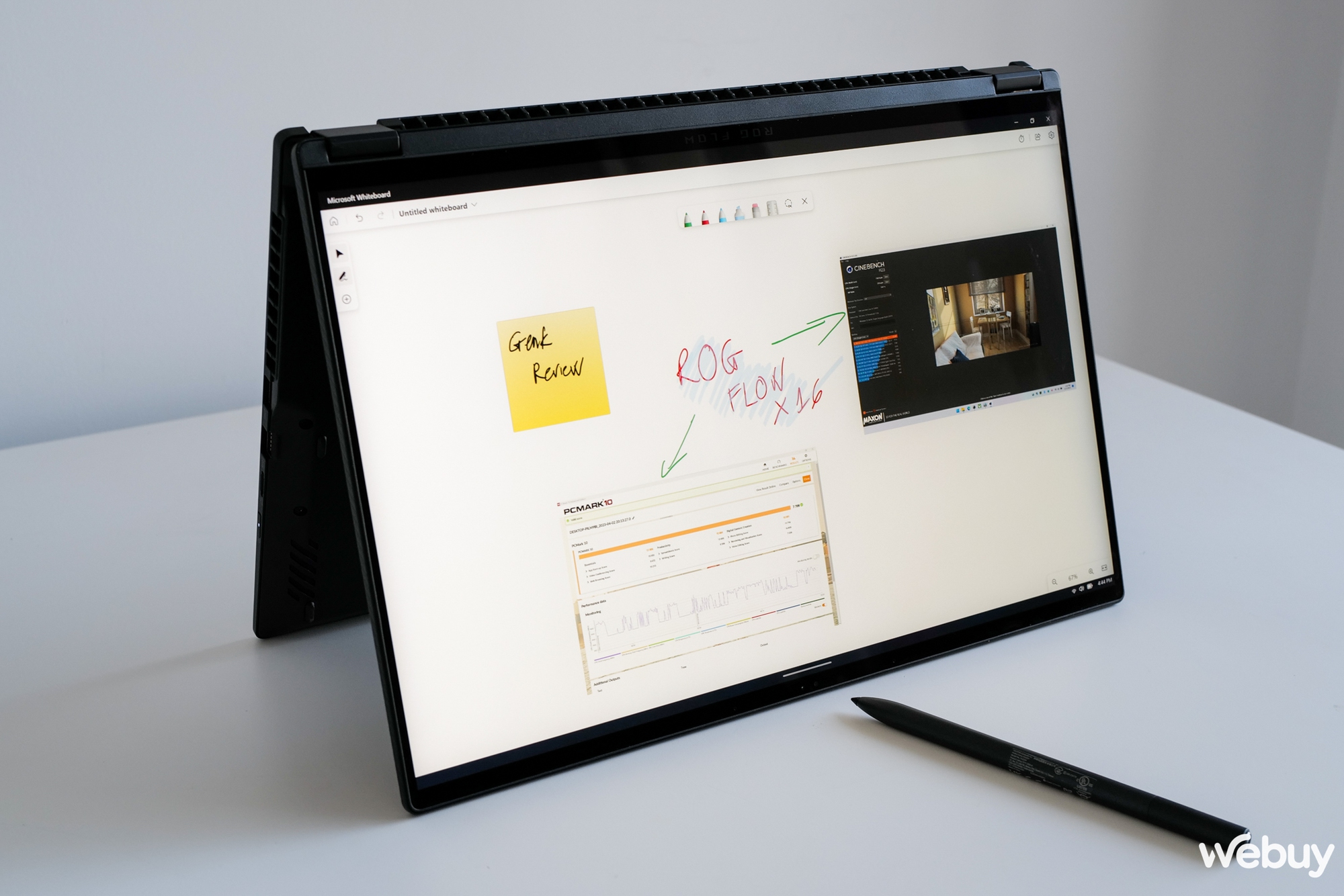 As a gaming laptop but comes with a stylus, ROG Flow X16 is a rare product that meets the needs of both gamers and graphic enthusiasts.
Price
ASUS announced the suggested retail price for ROG Flow X16 is 65,990,000 VND, a reasonable price compared to what this machine offers, especially in terms of appearance, performance and flexibility in the process. user program.
Highlights of ROG Flow X16:
– Intel® Core™ i9-13900H Processor and NVIDIA GeForce RTX™ 4060 8GB GPU with 120W . TGP
– Supports NVIDIA Studio Drivers and exclusive content creation tools like NVIDIA Canvas
– Mini LED HDR panel for superior gaming and entertainment experience
– Use Liquid Metal thermal paste on the CPU, 3 fans, 3 sided air vents and 5 copper heatpipes, covering all components
– 2K 240Hz/3ms Mini LED display with ROG Nebula HDR and VESA DisplayHDR™ 1000 standards, 1100 nits brightness, 1024 local areas, NVIDIA G-SYNC, 100% DCI-P3, 16:10 ultra-thin bezel , touch screen using new generation Gorilla Glass DRC.
– Integrated MUX Switch + NVIDIA Advanced Optimus for optimal performance
– DDR5 . RAM
– Connectivity Wifi 6E, Thunderbolt 4, HDMI 2.1, Type-C 100W PD, 90Wh pin battery
– XG Mobile support for upgradability up to RTX 4090 in a jiffy
– Comes with ASUS Stylus stylus