Assassin's Creed is an extremely massive game series, spanning nearly 2 decades.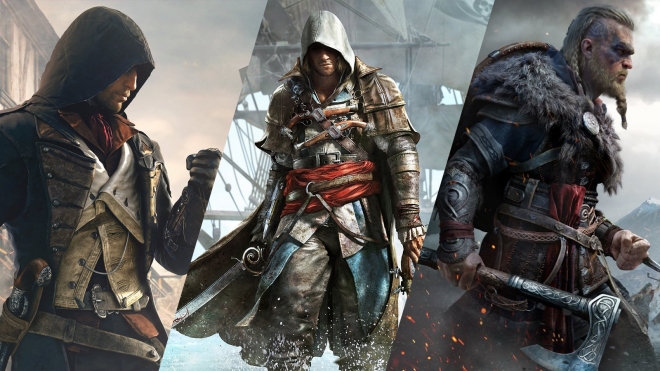 Assassin's Creed is an action adventure game series developed by Ubisoft. Here is a summary of the entire timeline of this game series:
1. Assassin's Creed (2007): The first game in the series, revolving around the story of Desmond Miles, a modern man who is kidnapped by an organization called Abstergo Industries to exploit the memories of his ancestors, Altaïr Ibn-La'Ahad, a Jewish assassin in the 12th century.
2. Assassin's Creed II (2009): The story of Ezio Auditore da Firenze, an Italian assassin in the 15th century. Ezio becomes an assassin after his family is murdered by a political rival.
3. Assassin's Creed: Brotherhood (2010): Following the story of Ezio, he becomes the leader of the Assassin's organization in Rome and fights against his rival, Cesare Borgia.
4. Assassin's Creed: Revelations (2011): Ezio searches for the traditions of previous Assassins in Constantinople and finds secrets related to the birth of the Animus machines.
5. Assassin's Creed III (2012): The game takes place during the American Revolution and follows Connor Kenway, an African-American Cherokee. Connor becomes an assassin to fight against British domination and seek the truth about his ancestors.
6. Assassin's Creed IV: Black Flag (2013): The game revolves around the story of Edward Kenway, an English pirate captain in the 18th century. Edward becomes an assassin and fights against opposing organizations. in the war for empire.
7. Assassin's Creed Rogue (2014): The game continues the plot of Black Flag, but follows Shay Patrick Cormac, a former Irish assassin who becomes an Assassin and then switches to the opposite side.
8. Assassin's Creed Unity (2014): The game takes place in Paris during the French Revolution. Arno Dorian, a Frenchman of Austrian descent, becomes an assassin and fights against oppressive forces.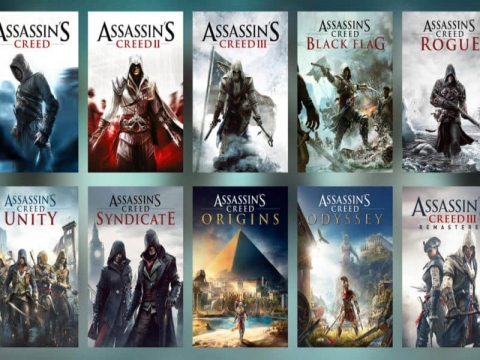 9. Assassin's Creed Syndicate (2015): The game revolves around two main characters, Jacob and Evie Frye, two British assassins in the 19th century. They are fighting against the forces of gangsters to regain their independence. control of the City of London.
10. Assassin's Creed Origins (2017): The game takes place in ancient Egypt, following Bayek, an Egyptian assassin, as he fights against dark forces and searches for the truth about death. of his son.
11. Assassin's Creed Odyssey (2018): The game takes place in the ancient Greek period, following Alexios or Kassandra, the two main characters are the children of assassin Sparta. They become assassins and fight against dark forces and seek the truth about their family and origins.
12. Assassin's Creed Valhalla (2020): The game takes place in the Viking world, following Eivor, a Viking assassin. He fights to regain his country and lands and confront the invading forces from England.