If you are a fan of Disney animated films, perhaps we all know that filmmakers love to "challenge" their audiences by hiding hidden details (also known as "eggs"). Resurrection") in random movie scenes.
Accordingly, the Easter eggs that the creator hides will often be related to one or more events or characters from the company's other famous animated films. With the goal of turning his work into an exciting adventure that brings something new to viewers, these details are cleverly installed and make even those who have seen this movie many times excited. Sometimes it's not necessarily recognizable.
1. "Guest" in Frozen
Before the accident that injured Anna, Elsa often used her magic to play with her sister. In the scene where Elsa creates snow characters, she creates familiar characters from the Mouse House such as the elephant Dumbo, Baymax, Snow White and Prince Charming.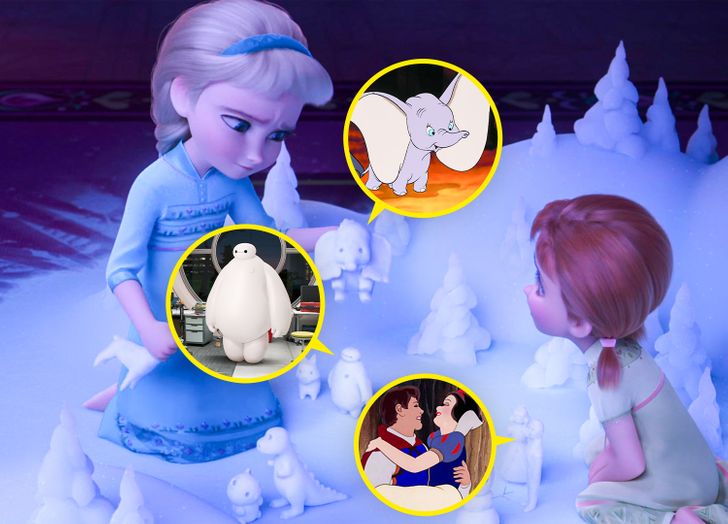 2. San Fransokyo city in Zootopia
Zootopia is a film that is extremely loved by many fans as the film is set in the world of animals. However, few people may realize that in Chief Bogo's room there is a calendar with a picture of the city of San Fransokyo, a fictional city combining San Francisco and Tokyo in Big Hero 6.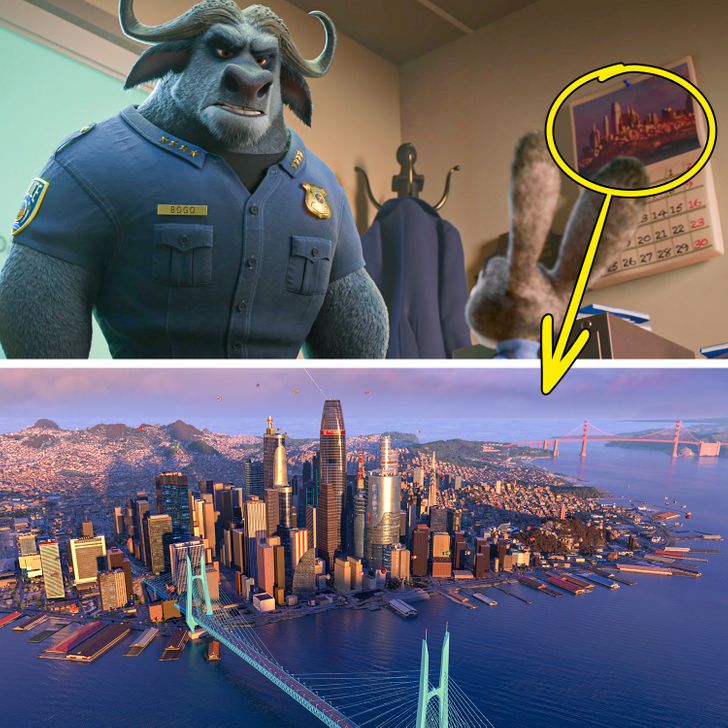 3. Symbols of Disney princesses in Tangled
The animators of Tangled (Cloud-Haired Princess) also left Easter eggs for fans of the Disney princess. Accordingly, for a long time Rapuzel was locked in the tower, she drew everywhere for entertainment.
But her photos are especially interesting as they remind of other Disney princesses like the apple representing Snow White, the shoe representing Cinderella, the rose for Belle in Beauty and the Beast and the shoe representing Cinderella. Seashells remind of Ariel the Little Mermaid.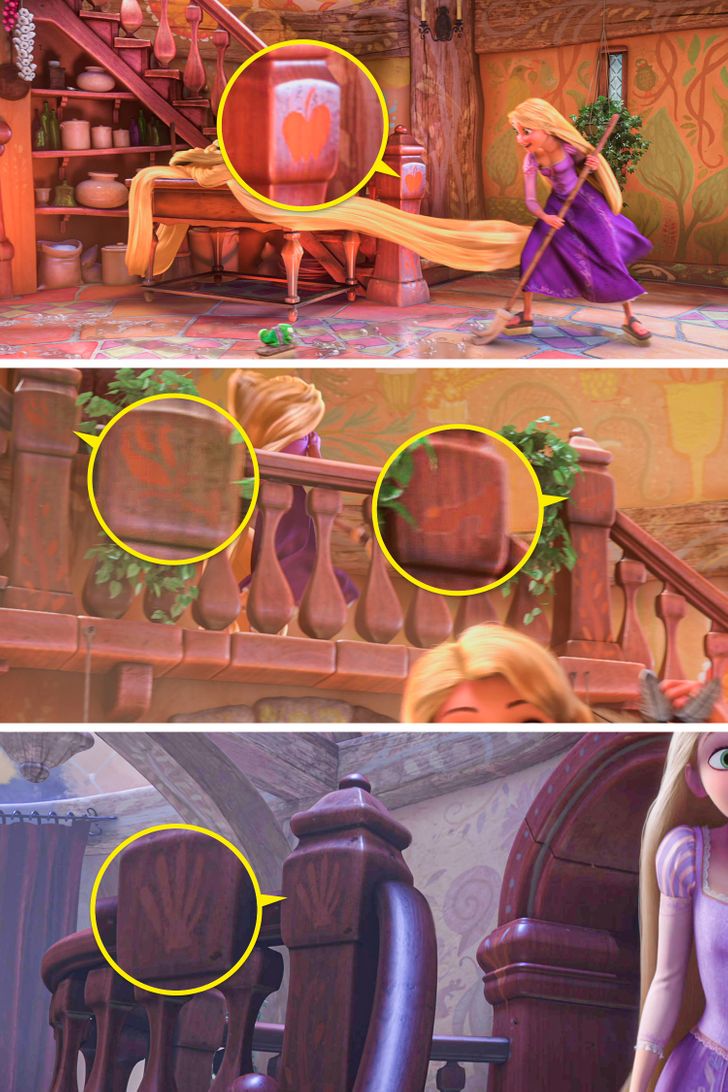 4. Mulan from Lilo & Stitch
One thing that few people know is that Mulan director Chris Sanders is also the director behind the film Lilo & Stitch. Therefore, this may also be the reason why Mulan appears twice in Lilo & Stitch. The first time was on a poster in Nani's room and the second time was on the sign of the restaurant Mulan Wok.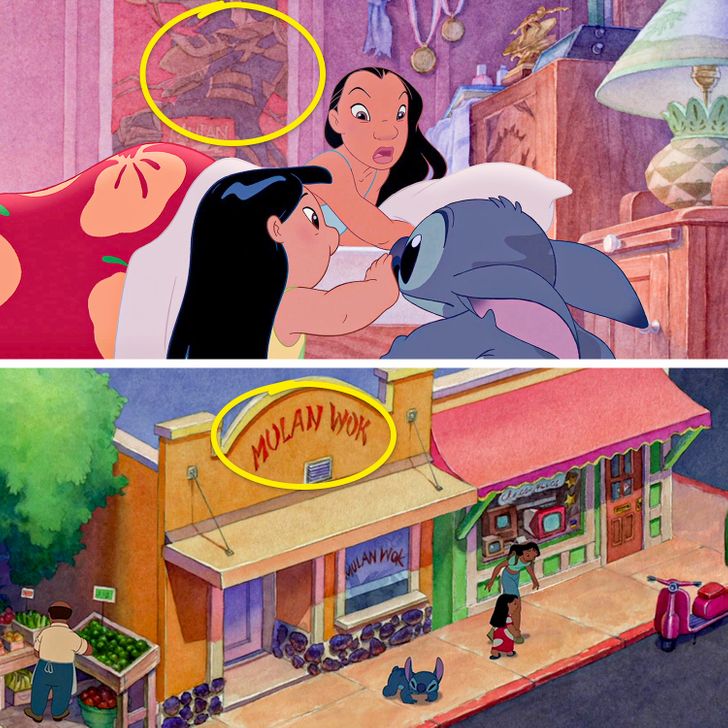 5. Olaf the snowman in Moana
Despite not appearing as a cameo in Moana But the details reminiscent of the funny snowman Olaf are carefully hidden in a detail in the movie. Specifically, in the movie scene Moana Deciding to set sail to save her island, she found the necessary items to put on the boat, including images of a carrot and a tree branch identical to Olaf's nose and hands in the movie. Frozen.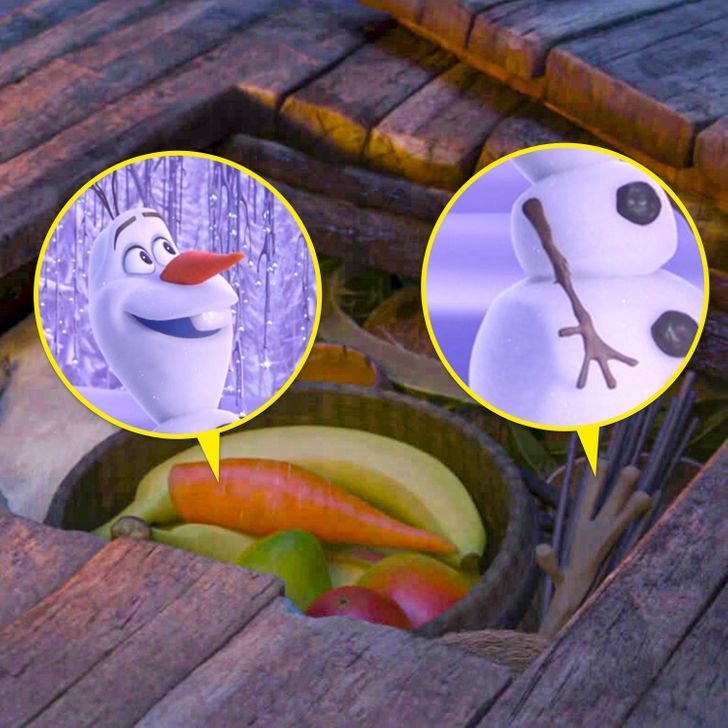 6. Ralph smashes 2
Although the movie Ralph is known as a movie that contains countless Easter eggs, but few people realize that in the scene Ralph was shown a magazine in which a picture of Cass Hamada, the aunt of main character Hiro Hamada, appeared. Big Hero 6.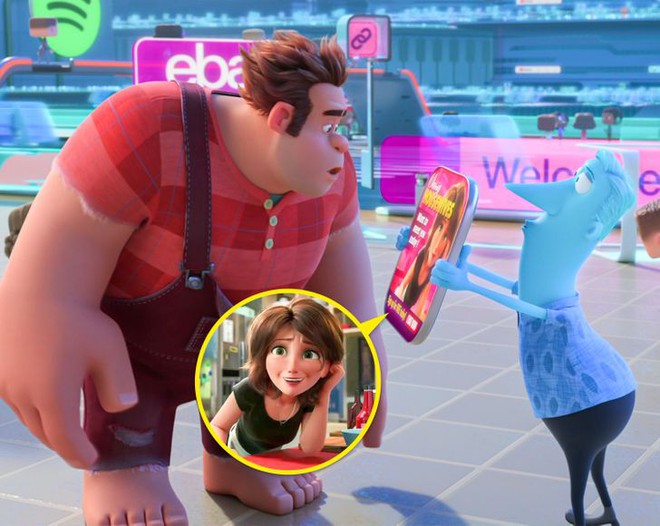 Source: Bright Side